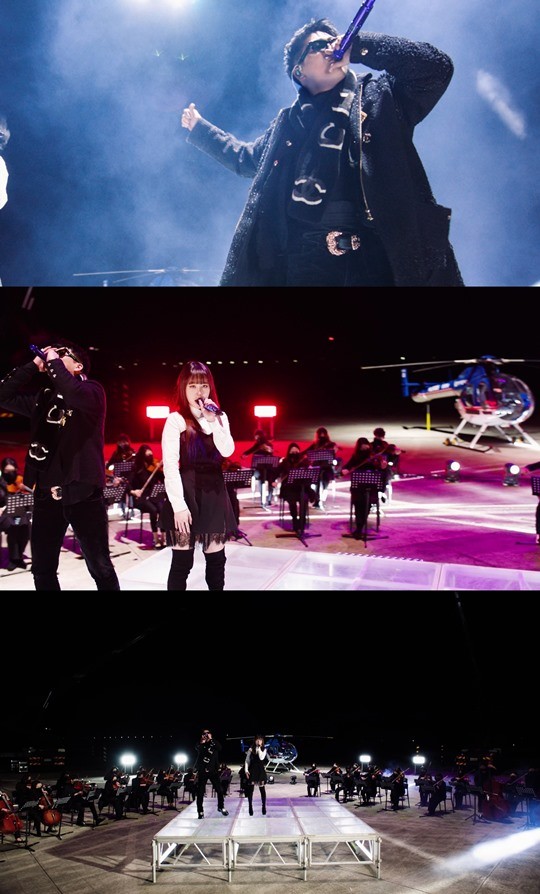 Kpop artist MC Mong heralded a different synergy with singer Jamie. On December 28, Million Market released a preview video of the title song 'Sick Enough To Die (Feat. JAMIE)' of the 20th-anniversary album 'Dark Hole' on its official social media channel.
The video showed MC Mong singing the newly arranged 'Sick Enough To Die (Feat. JAMIE)' in a sophisticated black costume. Jamie, who is in charge of featuring, also appears and presents a mournful atmosphere with a sweet voice.
Although 'Sick Enough To Die (Feat. JAMIE)' was briefly released through the preview video, MC Mong and Jamie's teamwork stands out. So, MC Mong's intense rapping and Jamie's singing ability combine to raise expectations for the complete song.
On top of that, colorful camera work and magnificent scale also attract the attention of fans. Helicopters appear while large orchestra sounds flow out to give beautiful melodies.
In fact, released in 2010, 'Sick Enough To Die' is an attractive song with a sad melody and MC Mong's unique rap. As it gained huge popularity by sweeping the top spot in major music charts during its release, this remake is already receiving a lot of attention.
This new album includes 'Sick Enough To Die (Feat. JAMIE),' 'Drama (Feat. Gummy),' 'Prayer (Feat. Younghyun Lee),' 'Love You To Death (Feat. Ayeon Baek),' 'Bubble Love (Feat. MAMAMO),' and 'Ice Cream (Feat. Cooing).'
MC Mong's 20th-anniversary album 'Dark Hole' will be out on various online music sites at 6 pm on December 30. He will resume activities to mark his 20th anniversary that has been postponed due to the COVID-19.
Also, 'MC Mong's 20th Anniversary Concert: It's starting now!' will take place at YES24 Live Hall in Gwangjin-gu, Seoul, at 7 pm on December 30 and 31.
Read More About: Makestar & Minho Jang Collaborates Through An Album Joint Purchase Event
2021 kpop news
,
2021 kpop news updates
,
best kpop news site
,
breaking news kpop
,
daily kpop news
,
hip-hop artist MC Mong
,
Korean celeb news
,
KPOP
,
Kpop artist
,
kpop artist MC Mong
,
Kpop artists
,
kpop celebrity news
,
Kpop chart and news
,
Kpop current news
,
kpop daily news
,
Kpop idols
,
Kpop latest news
,
kpop MC Mong
,
kpop MC Mong news
,
Kpop news
,
Kpop news articles
,
Kpop news sites
,
kpop news update
,
Kpop recent news
,
kpop singer MC Mong
,
Kpop trend
,
Kpop trending
,
KPop trending news
,
Kpop trending now
,
kpop trending update
,
KPOP2021
,
KPOPIDA
,
KPOPNEWS
,
MC MOng
,
MC Mong 20th anniversary
,
MC Mong kpop news
,
MC Mong songs
,
treasure
,
Trending
,
trending 2021
,
trending kpop
,
Trending Kpop news
,
trending kpop update
,
trending news
,
trending update kpop