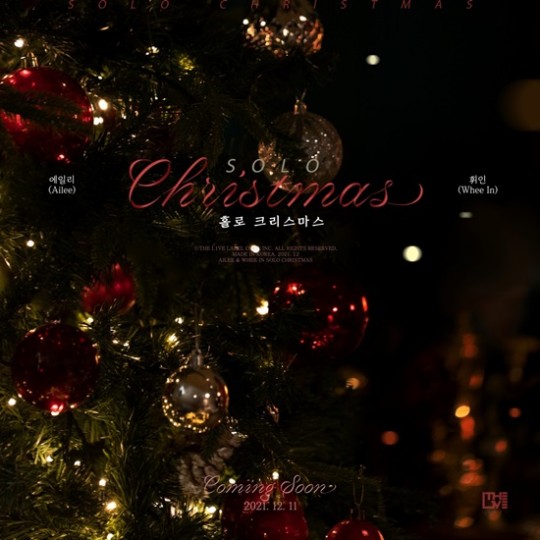 Kpop singer Ailee and MAMAMOO member Wheein unexpectedly announced the release of a seasonal song. On December 6, The L1VE announced the release of a Christmas carol by releasing the coming soon image of Ailee and Wheein's collaboration song 'SOLO Christmas' through their official social media.
The names of the Kpop singer Ailee and Wheein appear in the 'Coming Soon' image, where the Christmas tree and soft lights give a warm winter feel. In addition, the song title 'Solo Christmas' and the release date 'COMING SOON 2021.12.11' appear together, gaining attention.
So, Ailee and Wheein, who belong to The Li1VE, headed by Ravi, boast unrivaled timbre and explosive singing ability. The expectations and interest of listeners are gathering as to what kind of music they will play through this collaboration.
Ailee made a comeback in October with her 3rd full album, 'AMY' after about two years. She participated in writing the lyrics for a total of 8 songs, including the title song 'Don't Teach Me.'
So, Ailee proves her own deep music style and expanded musical capabilities, earning an explosive response from listeners.
Wheein sang the first OST 'Ice Cream Love' of Coupang Play's original drama 'One Ordinary Day,' released on November 28. Boasting a languid yet seductive voice, Wheein heightened the immersion of the drama, showing off her next-generation OST queen-like presence.
The Christmas carol 'Solo Christmas,' which contains Ailee and MAMAMOO member Wheein's perfect chemistry, will be out on various music sites at 6 pm on December 11.
Read More About: Jay B Donates 100 Million Won To Underprivileged Children
2021 kpop news
,
2021 kpop news updates
,
2021 news kpop
,
Ailee
,
AILEE KPOP
,
AILEE NEWS
,
Ailee_Cyprus
,
best kpop news site
,
breaking news kpop
,
daily kpop news
,
Korean celeb news
,
KPOP
,
KPOP AILEE NEWS
,
Kpop artist
,
kpop celebrity news
,
Kpop chart and news
,
kpop daily news
,
Kpop idols
,
Kpop latest news
,
Kpop news
,
Kpop news articles
,
Kpop news sites
,
kpop news update
,
Kpop recent news
,
Kpop singer Ailee
,
KPop trending news
,
Kpop_Ailee
,
KPOP2021
,
KPOPIDA
,
KPOPNEWS
,
mamamoo wheein
,
mamamoo wheein news
,
Mamamoo_Wheein
,
SINGER AILEE
,
Trending Kpop news
,
trending news
,
wheein
,
wheein mamamoo
,
wheein mini album
,
wheein_red