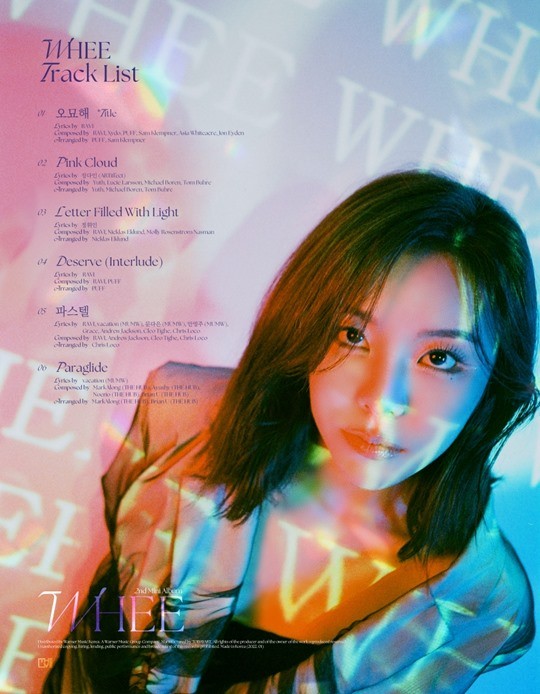 Kpop group MAMAMOO member Wheein raised the comeback fever by releasing the tracklist of her 2nd mini-album. The L1VE released the tracklist of the 2nd mini-album 'WHEE' on its official social media on December 29.
According to the released tracklist, this album contains the title song 'Mysterious,' 'Pink Cloud,' 'Letter Filled with Light,' 'Deserve (Interlude),' 'Pastel,' and 'Paraglide.'
So, this new album consists of a total of 6 colorful tracks.
The title song 'Mysterious' attracted attention by boasting a splendid lineup of producers. Famous producers such as Ravi, the head of GROOV1LN and The L1VE, Sam Klempner, who collaborated with BTS and Tomorrow X Together, and Anne Marie worked together to improve the perfection of the song.
Mainly, Ravi participated in writing and composing the title song and the sidetracks 'Deserve (Interlude)' and 'Pastel.'
Ravi gave full support to Wheein's new album release.
Wheein also participated in writing the lyrics for the sidetrack 'Letter Filled With Light' and generously melted her musical style and deepened emotions, raising expectations for this album.
Previously, the public recognized Wheein's original music style as a 'solo artist' through her first mini-album 'Redd,' released in April. So, attention focuses on what kind of new music and appearance Wheein will attract music fans this time.
Kpop group MAMAMOO member Wheein will release her 2nd mini-album 'Whee' on various music sites on January 16, 2022.
Read More About: fromis_9 To Make A Comeback In January With Their 4th Mini-album
agust d
,
best Kpop girl group
,
best kpop news site
,
best kpopstar
,
breaking news kpop
,
BT21
,
BTS
,
BTS Army
,
BTS BILLBOARD
,
bts butter
,
BTS fancam
,
BTS I'll Be Missing You
,
BTS J-Hope
,
bts jimin
,
bts Jungkook
,
BTS member
,
bts member Jimin
,
BTS member V
,
BTS Members
,
BTS News
,
BTS recent news
,
BTS routine
,
BTS solo songs
,
bts suga
,
BTS trending news
,
BTS UPDATES
,
BTS V
,
daily kpop news
,
Fandom
,
Filter
,
girl group MAMAMOO
,
hwasa mamamoo
,
hwasa_mamamoo
,
J-hope
,
JIMIN
,
Jin
,
JUNGKOOK
,
Korean celeb news
,
Korean singer
,
Korean singer songwriter
,
KPOP
,
Kpop album
,
Kpop beauty routine
,
Kpop boy group
,
KPOP BTS
,
kpop celebrity news
,
Kpop chart and news
,
Kpop colllaboration
,
KPOP comeback
,
Kpop current news
,
kpop daily news
,
Kpop fashion
,
Kpop girls group
,
Kpop group MAMAMOO
,
Kpop idols
,
Kpop issues
,
Kpop latest news
,
kpop mamamoo
,
Kpop music chart
,
Kpop news
,
Kpop news articles
,
Kpop news sites
,
kpop news update
,
Kpop recent news
,
Kpop skin care routine
,
Kpop skincare routine
,
KPop trending news
,
KPOPNEWS
,
mamamoo
,
mamamoo kpop
,
MAMAMOO members
,
mamamoo moonbyul
,
MAMAMOO news
,
mamamoo updates
,
mamamoo wheein
,
mamamoo wheein news
,
Mamamoo_hwasa
,
Mamamoo_Moonbyul
,
Mamamoo_Solar
,
MAMAMOO_WAW
,
Mamamoo_Wheein
,
permission to dance
,
RM
,
Run BTS
,
Solar of Mamamoo
,
South Korean singer songwriter
,
SUGA
,
TAEHYUNG KIM
,
the best kpop girl group
,
the best kpop girl group of 2021
,
the best kpop group of 2021
,
the top kpop group
,
top kpop boy group
,
top kpop girl group
,
V
,
weverse magazine
,
wheein mamamoo