Kpop group MAMAMOO successfully finished their first online concert, '2021 MAMAMOO Online Concert 'WAW.' They showed off the true value of 'You can trust MAMAMOO's concert.'
MAMAMOO held the '2021 MAMAMOO Online Concert 'WAW" on August 28th through Olleh TV and Seezn. As a 'performing idol,' MAMAMOO completed a 180-minute high-quality performance. The concert contained their songs in the past 7 years, including a new song.
With the motto of 'I Can't Miss A Moment With The Fans,' this concert was held as an all-live non-stop performance. They performed various songs from their debut song, 'Mr. Ambiguous to the unreleased new song, 'Just like the Sky, Earth, and Sea.'
They carefully selected songs that can travel back to memory with fans by rearranging major songs for each chapter.
Particularly, there was a magnificent performance of the live band and orchestra that accompanied this online concert. So, fans were able to meet MAMAMOO's lively performance. As it is impossible to meet fans offline, they interact with fans through real-time communication. They used various sets, LEDs, and lights to add a sense of reality.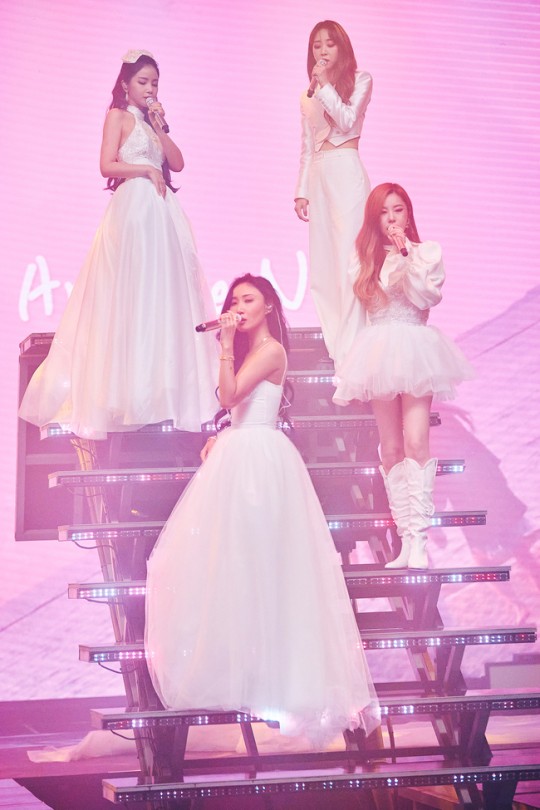 They start the concert with 'Where Are We Now,' which contains a message that runs through the '2021 Where Are We (WAW)' project. With explosive vocals and rich harmonies, MAMAMOO portrayed their experiences while working without a break, honest feelings, and thoughts about the future.
A refreshing new song that goes well with the summer, "Just Like the Sky, Earth, And Sea' and a fan song 'Happier Than Ever,' was also released for the first time. Particularly, their song 'Happier Than Ever' touched fans' hearts with its autobiographical lyrics about the members' experiences.
In addition to this, from exciting performances that showcase MAMAMOO's witty side, such as 'Um Oh Ah Yeh,' 'Decalcomanie,' 'Yes I Am,' and 'Gogobebe,' MAMAMOO completed their setlist with the songs, 'I Love Too,' 'Paint Me,' and 'Wind Flower.'
Their performances can make you feel their explosive singing power. So, this comprehensive gift set captivated both joy and emotions of the fans.
After the performance, Kpop group MAMAMOO said, "There were many times when we cried while preparing for the concert. But, thanks to Moomoos (fandom), we felt thankful that we had this kind of experience. As a group that is always developing, we will see you with a better image in the future. The best album coming out soon. So, please look forward to it. I love you."
Read More About: OMEGA X Drops 'F Version' Group Teaser Image For 'WHAT'S GOIN' ON'
hwasa mamamoo
,
hwasa_mamamoo
,
KPOP
,
Kpop artist
,
Kpop artists
,
kpop mamamoo
,
Kpop news
,
Kpop trend
,
Kpop trending
,
KPop trending news
,
Kpop trending now
,
kpop trending update
,
KPOP2021
,
KPOPIDA
,
KPOPNEWS
,
mamamoo
,
mamamoo kpop
,
mamamoo moonbyul
,
mamamoo updates
,
mamamoo wheein
,
mamamoo wheein news
,
Mamamoo_hwasa
,
Mamamoo_Moonbyul
,
Mamamoo_Solar
,
MAMAMOO_WAW
,
Mamamoo_Wheein
,
Solar of Mamamoo
,
Trending
,
trending 2021
,
trending kpop
,
Trending Kpop news
,
trending kpop update
,
trending news
,
trending update kpop
,
wheein mamamoo