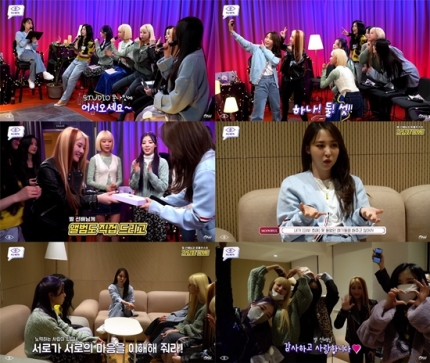 Mamamoo member Moonbyul gave a meaningful advice to het junior, PURPLE KISS, a rookie girl group.
Purple Kiss (Jieun Park, Goeun Na, Doshi, Ire, Yuki, Chaein, Suan) released the behind-the-scenes video of Naver NOW 'Studio Moon Night.' Mamamoo member Moonbyul hosts it during the 'PSNOTE' episode on the official YouTube channel on the 3rd.
Purple Kiss 'PSNOTE' is the behind-the-scenes story of Purple Kiss. It is an official video content that releases the behind-the-scenes of Purple Kiss's schedule.
The video is about the debut album 'INTO VIOLET,' which Purple Kiss' released on March 15th. The group appeared in Naver NOW 'Studio Moon Night' hosted by Mamamoo member Moonbyul on the 9th day after their debut. The time the group and Moonbyul talked attracted attention.
After the end of the broadcast on that day, Moonbyul had a time to give heartfelt advice to the Purple Kiss members under the theme of 'Gathering TIME.' Moonbyul said, "I want to tell you things I couldn't hear. I thought it would be good if I could tell you a little about what I needed at this time."
Even in the midst of her busy schedule, Moonbyul was moved by pointing out each member's concerns and gave them advice. To Yuki, who is active in other places, "Members have to take care of Yuki, a lot. Yuki also has to talk a lot to the members. Sharing each other's thoughts should be done by the members. Members should help each other." Moonbyul said.
Then, to the anxious members, "Do not try to fit into anyone. Just do what suits you. And, if you are too strict with yourself, you may not be happy. There are no things you can enjoy. Good people who work while looking for happiness and support are good. I hope you make it," Moonbyul advised the members.
Lastly, "I know you are working hard. I think the balance seems to fit well because you are working hard and supporting each other." Moonbyul cheered for the debut activity of her junior Purple Kiss.
Purple Kiss is a 7-member girl group debuted in about 7 years by their agency RBW. They released their debut album 'INTO VIOLET' on March 15th. The group showed their potential as a monster rookie at the same time as their debut.
The initial sales of their debut album recorded 12,405 copies (from March 15 to March 21 based on aggregate). It is the highest sales volume of a debut album among new girl groups that debuted from 2020 to 2021. In short, Purple Kiss has the edge among their generation.
Purple Kiss, which is making remarkable records both in Korea and abroad, has gained global popularity by entering the iTunes Top Albums chart in 8 countries. Also, the group is also entering the Apple Music Top Albums chart in 17 countries.
Meanwhile, Purple Kiss appeared on the SBS music program 'Inkigayo' on the 4th.
Read More About: Astro Eunwoo Cha Possessed A Perfect Appearance
2021 kpop news
,
2021 kpop updates
,
Kpop 2021
,
Kpop artist
,
Kpop artists
,
Kpop idols
,
Kpop news
,
Kpop trend
,
Kpop trending
,
KPop trending news
,
Kpop trending now
,
kpop trending update
,
kpop updates
,
Kpop_Purple Kiss
,
KPOP2021
,
KPOPIDA
,
KPOPNEWS
,
mamamoo
,
mamamoo moonbyul
,
mamamoo updates
,
Mamamoo_Moonbyul
,
Purple Kiss
,
purple Kiss debut
,
Purple Kiss_Into Violet
,
Trending
,
Trending Kpop news
,
trending news