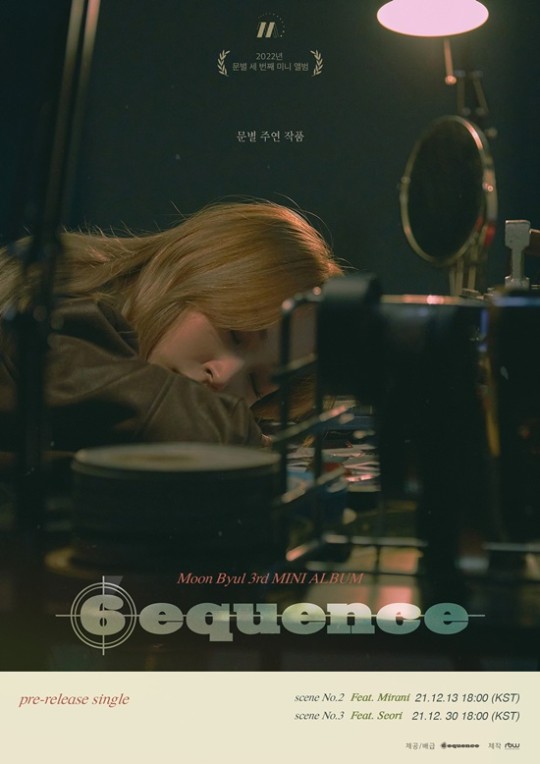 The Kpop group MAMAMOO member Moonbyul has released the trailer for her new album. Moonbyul released the trailer for her third mini-album '6equence' on their official social media at midnight on December 7.
The video begins with Moonbyul pulling a cart alone in a large building. Soon, she starts editing photos with an expressionless face. When she holds a film in her hand, the various figures of Moonbyul in different spaces appear. It contrasts with her current figure in the video.
Amid the appearance of two children wearing black and white dresses and Moonbyul standing in front of a microphone stand, Moonbyul wakes up and walks towards the light without hesitation.
This short-form film trailer video uses wide-angle and anamorphic lenses to give a fantasy feel. Also, it enhances immersion by emphasizing Moonbyul's complex emotions.
Notably, the melody of scene No. 1 'Synopsis,' an intro sound source, along with the album name '6equence,' which means a sequence consisting of several scenes, was released for the first time. So, fans raise questions about the hidden meaning of the number '6.'
In addition, Kpop group MAMAMOO member Moonbyul pre-released the single poster of '6equence' through her official social media.
According to the poster, she will pre-release two singles on December 13 and 30 ahead of her comeback in January 2022. Rapper Mirani and singer-songwriter Seori plan to launch support shots by featuring in each single, raising expectations.
Moonbyul developed a unique storytelling, melting inner good and evil into a two-face concept. She is showing a different charm compared to her previous solo album. So, she is gaining keen attention from listeners who waited for her new music and performances through this album.
Meanwhile, Moonbyul will make a comeback with her third mini-album, '6equence', in January next year.
Read More About: MONSTA X Reveals 'Rush Hour' Dance Practice Behind-The-Scenes
best Kpop girl group
,
best kpop news site
,
best kpopstar
,
breaking news kpop
,
daily kpop news
,
Fandom
,
Korean celeb news
,
Korean singer
,
Korean singer songwriter
,
KPOP
,
Kpop album
,
kpop award ceremony
,
Kpop awards
,
Kpop beauty routine
,
Kpop boy group
,
kpop celebrity news
,
Kpop chart and news
,
Kpop colllaboration
,
KPOP comeback
,
Kpop current news
,
kpop daily news
,
Kpop fashion
,
Kpop girls group
,
Kpop idols
,
Kpop issues
,
Kpop latest news
,
KPOP MAMA awards
,
kpop music awards
,
Kpop music chart
,
Kpop news
,
Kpop news articles
,
Kpop news sites
,
kpop news update
,
Kpop recent news
,
Kpop skin care routine
,
Kpop skincare routine
,
KPop trending news
,
KPOPNEWS
,
MAMA
,
MAMA awards
,
MAMA kpop
,
Mnet Asian Music Awards
,
South Korean singer songwriter
,
the best kpop girl group
,
the best kpop girl group of 2021
,
the best kpop group of 2021
,
the top kpop group
,
top kpop boy group
,
top kpop girl group