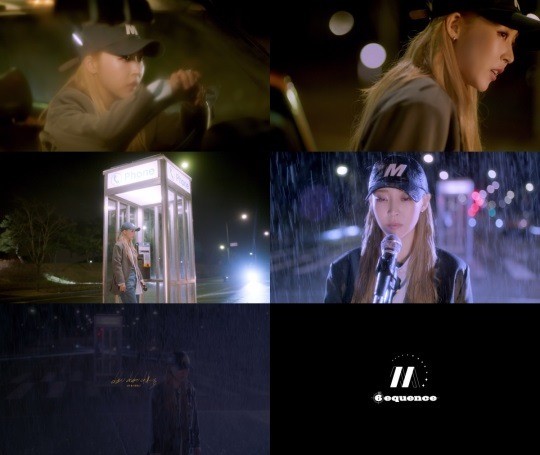 Kpop group MAMAMOO member Moonbyul raised the comeback fever by unveiling her new album's sidetrack mood sampler. At midnight today, January 11, through the official social media account, Moonbyul unveils her 3rd mini-album, '6equence' sidetrack 'DDU DDU DDU' Mood Sampler.
The video begins with Moonbyul with her head lowered in a quiet car. Soon, she heads to the payphone box but puts down the handset helplessly. At the same time, heavy rain poured down, and Moonbyul received the rain as it was. She gave off a precarious atmosphere, adding to the curiosity about the new song.
Mainly, 'DDU DDU DDU' is a self-composed song that MAMAMOO Moonbyul participated in writing and composing.
Moonbyul will release her 3rd mini-album, '6equence', on January 19. She will release this solo album after one year and 11 months since the previous album, 'DARK SIDE OF THE MOON.'
MAMAMOO Moonbyul actively participated in the concept planning as well as the song work to improve the perfection. Prior to the full album's release, she presented two pre-release singles, including 'G999' with a Newtro sensibility and 'From Head to Toe' with an intense atmosphere, showing off a variety of charms and heightened anticipation for the new album.
Meanwhile, K-pop group MAMAMOO member Moonbyul will release her 3rd mini-album, '6equence,' through various music sites at 6 pm on January 19.
Read More About: Wanna One Releases New Song 'Beautiful Part 3' For The First Time After 3 Years!
2021 kpop news
,
2021 kpop news updates
,
best kpop news site
,
breaking news kpop
,
BTS trending news
,
daily kpop news
,
Korean celeb news
,
KPOP
,
Kpop artist
,
Kpop artists
,
kpop celebrity news
,
Kpop chart and news
,
Kpop current news
,
kpop daily news
,
Kpop idols
,
Kpop latest news
,
Kpop news
,
Kpop news articles
,
Kpop news sites
,
kpop news update
,
Kpop recent news
,
Kpop trend
,
Kpop trending
,
KPop trending news
,
Kpop trending now
,
kpop trending update
,
KPOP2021
,
KPOPIDA
,
KPOPNEWS
,
mamamoo
,
mamamoo moonbyul
,
MAMAMOO news
,
mamamoo updates
,
mamamoo wheein news
,
Mamamoo_Moonbyul
,
Moonbyul
,
Trending
,
trending 2021
,
trending kpop
,
Trending Kpop news
,
trending kpop update
,
trending news
,
trending update kpop