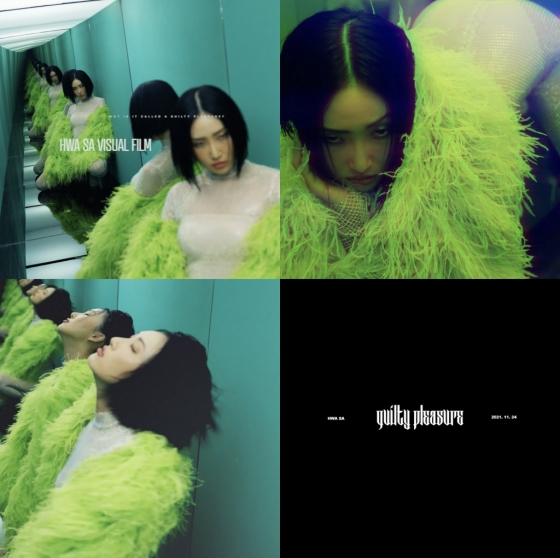 Kpop group MAMAMOO member Hwasa has begun a full-fledged comeback countdown by releasing a visual film for her solo album. At midnight on November 12, Hwasa presented a visual film of her second single album 'Guilty Pleasure' through her official social media channel.
Hwasa, in a mysterious space equipped with a mirror in the video, poses with a mesh styling and a shawl. She expressed her longing for achievement and happiness in the process through various 'me' reflected through the mirror. She is flying a hand kiss and hitting an ankle while looking forward.
Hwasa will release her single album 'Guilty Pleasure' on November 24. It will be her first solo comeback in a year and five months since her first mini-album 'Maria,' released in June last year. So, she will surely heat up the music industry again this fall with her deeper style and charm.
The name of the album is 'Guilty Pleasure,' which means enjoying while feeling guilty. It will deliver a message of comfort and courage that will stimulate listeners' consensus in Hwasa's own way.
Hwasa has drawn attention with her unique style, starting with her solo debut song 'Twit' and 'Maria.'
Also, she has established herself as the only solo artist who shows trendy music, sincere lyrics, and colorful performances.
Notably, based on the solid firepower of the global fandom, she has created a challenge syndrome in the US and China. Hwasa captivated the fans with her star aspect and popularity, drawing keen attention to the three consecutive box office hits that will continue with this new single album.
Meanwhile, Kpop group MAMAMOO member Hwasa will release her second single album 'Guilty Pleasure' on various music sites at 6 pm on November 24.
Read More About: IVE Member Yujin Ahn Shows Her 'Perfect Body Ratio'
2021 kpop news
,
2021 kpop news updates
,
2021 kpop updates
,
2021 news kpop
,
best kpop news site
,
daily kpop news
,
girl group MAMAMOO
,
hwasa mamamoo
,
hwasa_mamamoo
,
Korean celeb news
,
KPOP
,
Kpop 2021
,
Kpop artist
,
Kpop artists
,
kpop celebrity news
,
kpop daily news
,
Kpop group MAMAMOO
,
Kpop idols
,
Kpop latest news
,
kpop mamamoo
,
Kpop news
,
kpop news update
,
Kpop recent news
,
Kpop trend
,
Kpop trending
,
KPop trending news
,
Kpop trending now
,
kpop trending update
,
KPOP2021
,
Kpopall
,
KPOPIDA
,
KPOPNEWS
,
Kpopnews 2021
,
Kpopnews2021
,
latest kpop news
,
mamamoo
,
mamamoo kpop
,
MAMAMOO members
,
mamamoo moonbyul
,
MAMAMOO news
,
mamamoo updates
,
mamamoo wheein
,
mamamoo wheein news
,
Mamamoo_hwasa
,
Mamamoo_Moonbyul
,
Mamamoo_Solar
,
MAMAMOO_WAW
,
Mamamoo_Wheein
,
recent kpop news
,
Solar of Mamamoo
,
Trending
,
trending 2021
,
trending kpop
,
Trending Kpop news
,
trending kpop update
,
trending news
,
trending update kpop
,
wheein mamamoo