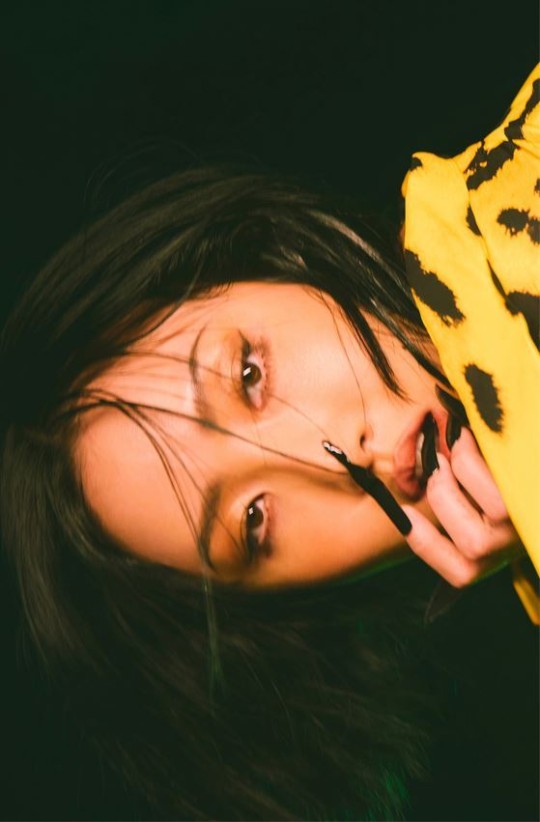 Kpop group MAMAMOO member Hwasa is continuing her popularity march beyond Korea and in China. The title song 'I'm a light' of Hwasa's second single album 'Guilty Pleasure,' released on November 24, topped the daily chart of QQ Music, China's largest music platform, on November 25.
'FOMO' and 'Bless U,' sidetracks of the new single album, ranked third and sixth on the same chart, respectively. So, she has proved her hot popularity in China.
As Hwasa topped five charts in QQ Music with her previous title song, 'Maria,' and surpassed 100 million music plays, attention also focuses on the record that 'I'm A Light' will set.
'I'm A Light,' in which Hwasa wrote the song herself, features a trendy sound that spreads freely on a heavy bassline. The addictive hook and Hwasa's groovy voice harmonized to boast high completeness.
The song comforts listeners with a message of courage that only when you put down your desire to be perfect, you can become a light that swallows the shadow.
Hwasa is showing off her strong music power by maintaining the top spot on major domestic music charts until now, the fourth day of her single album's release. Shortly after its release, the song also entered the top 10 iTunes song charts in 19 countries and regions worldwide. It includes Singapore, the Philippines, Saudi Arabia, Belarus, Colombia, and Lithuania, proving Hwasa's global influence.
Kpop group MAMAMOO member Hwasa made three consecutive hits. It includes her solo debut songs 'Twi,' 'Maria,' and 'I'ma Light,' with her unrivaled concept. Also, she showed her own pleasant and sensuous performance to imprint her presence as a complete solo artist.
Read More About: YGX Yell Selected As B-Girl National Team Member Representing Korea
2021 kpop news
,
2021 kpop news updates
,
2021 news kpop
,
best kpop news site
,
daily kpop news
,
gfriend trending news
,
Korean celeb news
,
KPOP
,
Kpop 2021
,
Kpop artist
,
Kpop artists
,
kpop celebrity news
,
Kpop chart and news
,
kpop daily news
,
Kpop idols
,
Kpop latest news
,
Kpop news
,
Kpop news articles
,
kpop news update
,
Kpop recent news
,
Kpop trend
,
Kpop trending
,
KPop trending news
,
Kpop trending now
,
kpop trending update
,
KPOP2021
,
KPOPIDA
,
KPOPNEWS
,
Kpopnews 2021
,
recent kpop news
,
trending 2021
,
trending kpop
,
trending kpop nes
,
Trending Kpop news
,
trending kpop update
,
trending news
,
trending update kpop