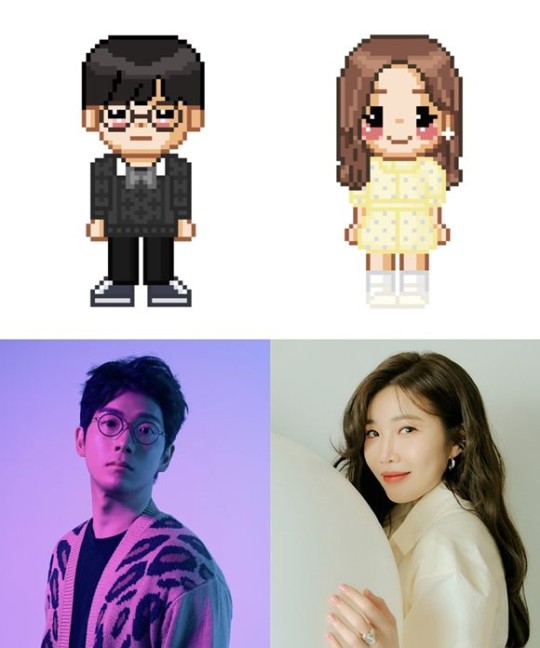 'Cyworld BGM 2021' ninth singers Mad Clown and Haeri Lee will remake the song, 'Recipient Unknown.'
Rappers Mad Clown and Davichi member Haeri Lee will collaborate to evoke a 'Psy sensibility.'
On August 31st, Cyworld Jet and Superman CNM announced, "Mad Clown and Davichi Haeri Lee, confirmed as the ninth singers of 'Cyworld BGM 2021,' will remake Freestyle's 'Recipient Unknown," and released a mini-me based on the two's real life on their official social media.
Freestyle's 'Recipient Unknown' (2007) is one of the representative hip-hop songs of the 2000s. It occupied the Cyworld minihompy at the time of its release. Along with 'Y (Please Tell Me Why),' it is one of Freestyle's greatest hits. Until now, music fans still loved the song as a masterpiece that stimulates the 'Psy sensibility' of that time.
Mad Clown and Haeri Lee worked together as a duet through 'Recipient Unknown.'
While retaining the charm of the original song with its strong rapping and soft female vocals, the two plan to maximize the charm of their remake by incorporating their skills and individuality.
Mad Clown has a unique flow and excellent vocalization. Then, Haeri Lee has an unrivaled singing ability and lyrical tone. Both of them herald the rebirth of 'Recipient Unknown' with a mournful and affectionate harmony. They will soon announce the release date and teaser of the song, 'Recipient Unknown,' which two talented artists participated.
'Cyworld BGM 2021' is a large project in which the top 100 songs of all time, analyzed by Cyworld's BGM data that caused 'minihompy syndrome,' are sung again by the MZ generation's favorite singers.
In fact, Cyworld BGM 202 has been releasing songs. It started with Soyou's 'Y (Please Tell Me Why),' GIFT's 'Time Walking On Memory,' Gaho's 'Officially Missing You,' Ailee's 'Snow Flower,' Seunghwan Jung's 'I Have A Lover,' George's 'I'll Change,' Sungwoon Ha & Punch's 'Johnny' and Chiyeul Hwang's 'Nagging.'
So, a total of eight songs have been released and are receiving favorable reviews.
Also, the lineup of proceeding artists is strong. They will feature artists in a variety of genres. It includes Daniel Kang, San E, Yuju of GFRIEND, Chancellor, Suran, Wonstein, fromis_9, and producer Hyeongseok Kim's Cyberband No. 402. It continues to be a hot topic with an all-time lineup of the year.
Read More About: SHINee Key Topped The Charts In Korea & Abroad With His New Song
Cyworld BGM 2021
,
Davichi
,
davichi female duo
,
KPOP
,
Kpop artist
,
Kpop artists
,
Kpop latest news
,
kpop latest updates
,
kpop mad clown
,
Kpop news
,
Kpop recent news
,
Kpop trend
,
Kpop trending
,
KPop trending news
,
Kpop trending now
,
kpop trending update
,
KPOP2021
,
KPOPIDA
,
KPOPNEWS
,
latest kpop news
,
latest kpop updates
,
Lee haeri
,
mad clown
,
producer Mad Clown
,
Rapper Mad Clown
,
recent kpop news
,
Trending
,
trending 2021
,
trending kpop
,
Trending Kpop news
,
trending kpop update
,
trending news
,
trending update kpop