Trending Kpop band LUCY presents a hot end of the year through Mystic Story's 'Listen Stage.'
LUCY will perform through the Mystic Story's performance project 'LISTEN STAGE' from 7:30 pm on December 29.
LUCY's performance will air in real-time through the Mystic Story YouTube channel streaming to be with more fans.
'Listen Stage' is a motto to be faithful to 'music to be seen' following 'music to listen to' in 2017. Musicians from Mystic Story have been performing live for 30 minutes on the first floor of the office building.
'Listen Stage,' which was temporarily suspended due to COVID-19, announced the reopening of the Mystic Story's new live space, 'MYSTIC CONNECT,' in September. Recently, while Jongshin Yoon, Jungin Choi, Taejin Son, Minseo, and Billlie presented a performance with a high level of perfection. This time, LUCY will shine as the last performer of the year at 'Listen Stage' with high-quality live performances.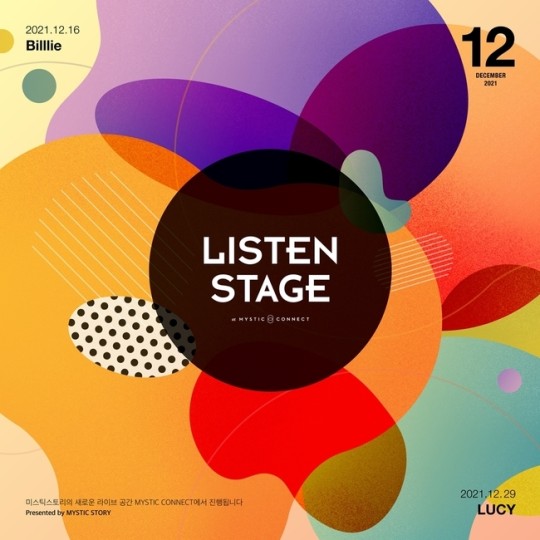 Particularly, LUCY will surely captivate fans by demonstrating their solid live skills and wit as it is their first appearance on 'Listen Stage' as a whole band.
LUCY sold out two solo concerts this year and had the best year, boasting of their strong ticket power and recording a reverse run on the music charts with 'Flowering.'
Their second EP 'BLUE,' released on December 7, is also receiving favorable reviews for LUCY's unique musicality.
LUCY has established itself as a 'next-generation K-band' with a steep rise in popularity. They will surely wrap up a meaningful year by decorating the end of the year through 'Listen Stage.'
Kpop band LUCY's 'Listen Stage' will air live on the Mystic Story YouTube channel from 7:30 pm today, December 29.
Read More About: WEi Yohan Kim Unveils His Solo Mini-Album 'Illusion' Tracklist
best Kpop girl group
,
best kpop news site
,
best kpopstar
,
breaking news kpop
,
daily kpop news
,
Fandom
,
Gwangil Shin
,
Hip-hop Idol JIN
,
I Got U
,
Jin
,
JIN news
,
K-BAND
,
K-band Lucy
,
Korean celeb news
,
Korean singer
,
Korean singer songwriter
,
KPOP
,
Kpop album
,
Kpop artist
,
Kpop artists
,
Kpop beauty routine
,
Kpop boy group
,
kpop celebrity news
,
Kpop chart and news
,
Kpop colllaboration
,
KPOP comeback
,
Kpop current news
,
kpop daily news
,
Kpop fashion
,
Kpop girls group
,
kpop idol JIN
,
Kpop idols
,
Kpop issues
,
Kpop latest news
,
kpop LUCY
,
KPOP LUCY NEWS
,
Kpop music chart
,
Kpop news
,
Kpop news articles
,
Kpop news sites
,
kpop news update
,
Kpop recent news
,
Kpop skin care routine
,
Kpop skincare routine
,
Kpop trend
,
Kpop trending
,
KPop trending news
,
Kpop trending now
,
KPOP2021
,
KPOPIDA
,
KPOPNEWS
,
lucy
,
LUCY KPOP
,
LUCY kpop album
,
LUCY new single
,
LUCY_From LUCY
,
LUCY_I GOT U
,
Sangyeop Choi
,
Singer JIN
,
South Korean singer songwriter
,
the best kpop girl group
,
the best kpop girl group of 2021
,
the best kpop group of 2021
,
the top kpop group
,
top kpop boy group
,
top kpop girl group
,
trending kpop
,
Trending Kpop news
,
trending kpop update
,
trending update kpop
,
Wonsang Cho
,
Yechan Shin