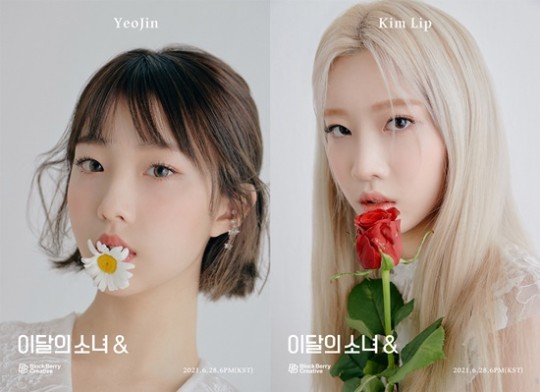 The concept photo of the group LOONA is attracting attention every day.
LOONA (Heejin, Hyunjin, Hanseul, Yeojin, Vivi, Kim Lip, Jinsol, Choerry, Yves, Chuu, Gowon, Olivia Hye) will release the new mini-album '&' on June 28th. On June 21st, they released the secret concept photo on their official social media, raising expectations for their comeback.
In the released image, Yeojin boasted a sentimental atmosphere with flowers. The flower daisy, which matches the image of Yeojin, adds to her cuteness and cheerfulness as the youngest member of LOONA. So, it is even more eye-catching.
Next, Kim Lip, whose concept photo is released together with Yeojin, presented an innocent charm with simple and natural makeup. She attracted attention by showing off her chic charm with a red rose, matching her symbolic color, red.
As a result, LOONA, who completed the release of individual cuts for the secret concept photo, attract attention by demonstrating the power of expressing various concepts. They exude the opposite charm with the previously released concept photo with intense charisma and dark image.
LOONA's 4th mini-album '&' contains the story of LOONA, who achieved a bigger change beyond boundaries, and you, me, and us broke the standardized rules and became one.
The title track 'PTT (Paint The Town)' is a dance hip-hop genre song. It contains LOONA's explosive energy. It is a highly addictive song that combines all the essential elements of a Bollywood song.
LOONA will release their new mini-album '&' at 6 pm on June 28th.
Read More About: Seungyoon Lee Took His First Step As A Famous Singer
2021 kpop
,
2021 kpop girl idols
,
2021 kpop news
,
2021 kpop news updates
,
2021 kpop updates
,
2021 news kpop
,
2021 updates on kpop
,
KPOP
,
Kpop 2021
,
Kpop artist
,
Kpop artists
,
Kpop idols
,
kpop LOONA
,
Kpop news
,
Kpop trend
,
Kpop trending
,
KPop trending news
,
Kpop trending now
,
kpop trending update
,
KPOP2021
,
Kpopall
,
KPOPIDA
,
KPOPNEWS
,
Kpopnews 2021
,
LOONA
,
loona kpop
,
loona kpop news
,
loona updates
,
LOONA_&
,
loona_kim lip
,
loona_yeojin
,
Trending
,
trending 2021
,
trending kpop
,
Trending Kpop news
,
trending kpop update
,
trending news
,
trending update kpop