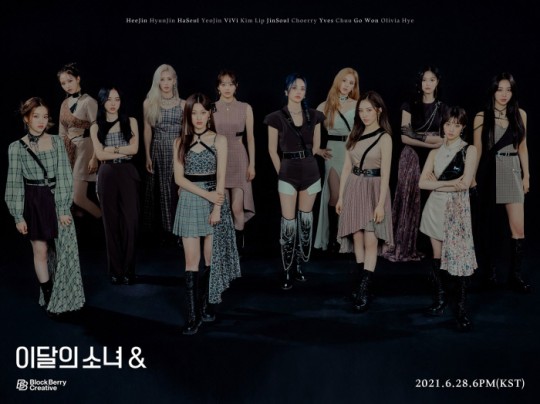 The comeback of the group LOONA is just one day away.
LOONA will release their fourth mini-album '&' at 6 pm on June 28th through various music sites.
'&' includes the title song 'PTT (Paint The Town),' as well as the intro songs '&,' 'WOW,' and 'Be Honest.'
Overall, there are a total of 7 songs, including 'Dance On My Own,' 'A Different Night,' and 'U R.'
LOONA will comeback after about 2 years and 5 months since the repackage album 'X X,' released in February 2019. So, fans are expecting a more intense concept with a high-quality album.
Therefore, we have pointed out three points that we should look forward for LOONA's comeback.
# Haseul's comeback, a full group comeback
The reason why the release of the new mini-album '&' is even more special is that Haseul, a member who took a break for health reasons, is back. This time, LOONA will release a new album as a whole 12-member group after 2 years and 5 months.
LOONA established itself as a 'global box office trend' by breaking remarkable records and phenomenal records with each album release. They are returning with the most intense and explosive energy of music and performance.
'&' conveys the story of LOONA, who made a bigger change beyond boundaries, broke the stereotyped rules, and became one.
LOONA attracted attention by revealing words meaning completeness, combination, and redefinition. It is along with the slogan 'And all LOOΠΔs are one' (All the LOONAs in the world finally become one).
Expectations are already high on how LOONA will captivate global fans like the new album's name.
# Announces all-time scale expansion of 'LOONAverse'
LOONA has gathered a lot of attention in every album release since their debut with 'LOONAverse.'
They showed a unique worldview from their solo to unit performances and as a complete group.
The story of their worldview is according to each member's personality. They showed symbolic animals, colors, fruits, and emotions. So, they attracted attention by suggesting that they are related to each other with various connections.
Also, the moon that appeared in the album logos of '+ +,' 'X X,' '#,' and '12:00′ melts and hints at a new worldview. This alone will surely capture the attention of fans.
LOONA reveals new symbolic elements through the previously released concept photo of '&.'
Also, through this album, you can expect LOONA to set and expanded their worldview, combining their unique skills and talents.
From the colorful intro logo motion in the released '&' teaser video to the worldview of each member, this comeback is already receiving a hot response from global fans. So, expectations and interest are pouring in.
# Record Girls' box office momentum
LOONA entered the Billboard main chart 'Billboard 200′ with '12:00' released in October last year, ranked 112th. Also, they ranked first on the iTunes album charts in 51 countries, including the US. This makes them the first K-pop girl group in North America. They broke a significant record, including entering the radio chart for 9 weeks in a row.
LOONA emerged as a global hit by occupying the North American radio market with 'Star.'
It is a song from '12:00′ and an English song. This time, they will again prove their influence and popularity with this new album, '&.'
Attention is focussing on LOONA, who will spread new wings with '&.'
This new album contains the message that we will establish and re-establish ourselves independently. Also, we will re-establish ourselves with our own color and will not pay attention to others.
LOONA will release their 4th mini album '&' on various music sites at 6 pm on June 28th.
Read More About: TWICE Took 1st Place With 'Alcohol-Free' On SBS Inkigayo
2021 kpop
,
2021 kpop girl idols
,
2021 kpop news
,
2021 kpop news updates
,
2021 kpop updates
,
2021 news kpop
,
2021 updates on kpop
,
CHUU_LOONA
,
KPOP
,
Kpop 2021
,
Kpop artist
,
Kpop artists
,
Kpop idols
,
kpop LOONA
,
Kpop news
,
Kpop trend
,
Kpop trending
,
KPop trending news
,
Kpop trending now
,
KPOP2021
,
Kpopall
,
KPOPIDA
,
KPOPNEWS
,
LOONA
,
loona kpop
,
loona kpop news
,
loona updates
,
LOONA_&
,
LOONA_CHUU
,
LOONA_heejin
,
loona_kim lip
,
LOONA_Olivia Hye
,
loona_yeojin
,
trending kpop
,
Trending Kpop news
,
trending kpop update
,
trending update kpop