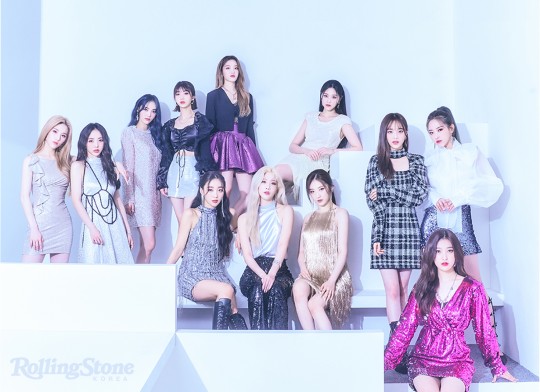 LOONA's full pictorial has been released. On July 28th, Rolling Stone Korea released pictorials and interviews of LOONA (Heejin, Hyunjin, Haseul, Yeojin, Vivi, Kim Lip, Jinsoul, Choerry, Yves, Chuu, Gowon, Olivia Hye) through their official social media channel.
In the pictorial, LOONA showed off two concepts, exuding a colorful charm. The first concept captures the appearance of girls who have grown up through points such as sparkling sequins and colorful accessories.
The second concept, which gave a bold neon point, challenged a street style that LOONA had never tried before. They are showing off their sporty charm with a pose that stood out for each member's individuality.
In addition, through the TFT (The First Time) interview video released along with the pictorial, LOONA tells the story of the 'first meeting' about the first impressions of the LOONA members. Besides, they shared their thoughts about the moment they first heard their songs after their debut. In addition, they revealed their efforts as singers.
Particularly, when asked about the first moment when they felt the members' love, member Choerry replied, "I feel it today, and I feel it every day." Then, Heejin continued, "I remember something. One night, I went home after practicing the choreography of 'PTT (Paint The Town)' until late at night. Chuu left a long letter in the group chat room. Since then, the members have shown off their close friendship by adding heart-warming episodes, saying, 'Good job' and 'Let's cheer up in the future.'"
Rolling Stone Korea No. 3, which contains pictorials and interviews of LOONA, can be found through various online and offline bookstores.
Read More About: ATEEZ Is Showing 'Remarkable Growth'
2021 kpop
,
2021 kpop news
,
2021 kpop news updates
,
2021 kpop updates
,
2021 news kpop
,
2021 updates on kpop
,
CHUU_LOONA
,
KPOP
,
Kpop 2021
,
Kpop artist
,
Kpop artists
,
kpop LOONA
,
Kpop news
,
Kpop trending
,
KPop trending news
,
Kpop trending now
,
KPOP2021
,
KPOPIDA
,
KPOPNEWS
,
Kpopnews 2021
,
Kpopnews2021
,
LOONA
,
LOONA Chuu
,
loona kpop
,
loona kpop news
,
loona updates
,
LOONA_&
,
LOONA_CHUU
,
LOONA_heejin
,
loona_kim lip
,
LOONA_Olivia Hye
,
loona_yeojin
,
ROLLING STONE
,
Rolling Stone Korea
,
Trending Kpop news