LOONA unveils the new song 'PTT (Paint The Town).'
LOONA announced their comeback by releasing a highlight medley video of their new mini-album '&' (And) at midnight on June 26th.
The released video includes the title song 'PTT (Paint The Town),' with the intro songs '&,' 'WOW,' and 'Be Honest.'
Overall, the album contains 7 tracks, including 'Dance On My Own,' 'A Different Night,' and 'U R.'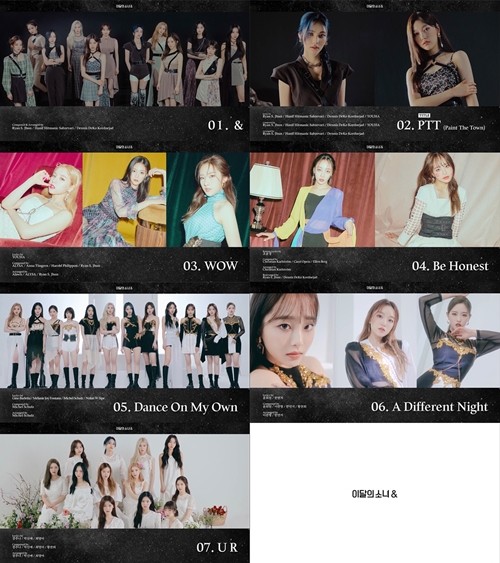 At the same time, the concept photos of the four versions of '&' that they presented earlier were harmonized to attract attention with their various charms. The first track and the intro song '&' contain the story of 'us' breaking through the standardized rules and symbols and becoming one.
In fact, the title song 'PTT (Paint The Town)' is a dance hip-hop genre song. It contains the most intense and explosive energy among the songs that LOONA has ever released. It combines all the essential elements of a Bollywood song. This song completely depicts LOONA's new worldview. Also, it contains the aspirations of 'Paint The Town' as our own style by independently establishing and re-establishing ourselves without being confined to taboos or not paying attention to others.
A wide range of music genres follows the title track. It contains 'WOW,' a song that gives confidence with a bouncing tempo, 'Be Honest' with a refreshing up-tempo melody, 'Dance On My Own,' a song full of emotional energy, 'A Different Night' with a dreamy and faint sound, and 'U R, an R&B song that combines in-piano and electric guitar. So, there's a total of 7 tracks that can make fans feel LOONA's wide musical spectrum.
LOONA's new mini-album '&' contains the story of LOONA, who achieved a bigger change beyond boundaries, breaking the standardized rules and became one. They will portray a more solid worldview with the slogan phrase "And all LOONA'S are one" through this album.
LOONA has shown its original and unique worldview. They presented a wide musical spectrum with new and colorful concepts for each album release. So, attention is focusing on what other records will LOONA set through the new mini-album '&.'
LOONA will release their new mini-album '&' through various music sites at 6 pm on June 28th. Then, they will begin full-fledged comeback activities.
Read More About: AESPA, A True 'Next Level' In The Music Industry
2021 kpop girl idols
,
2021 kpop news
,
2021 kpop news updates
,
2021 kpop updates
,
KPOP
,
Kpop 2021
,
Kpop artist
,
Kpop artists
,
Kpop idols
,
kpop LOONA
,
Kpop news
,
Kpop trend
,
Kpop trending
,
KPop trending news
,
Kpop trending now
,
kpop trending update
,
KPOP2021
,
Kpopall
,
KPOPIDA
,
KPOPNEWS
,
Kpopnews 2021
,
LOONA
,
loona kpop
,
loona kpop news
,
loona updates
,
LOONA_&
,
LOONA_CHUU
,
LOONA_heejin
,
loona_kim lip
,
LOONA_Olivia Hye
,
loona_yeojin
,
Trending
,
trending 2021
,
trending kpop
,
Trending Kpop news
,
trending kpop update
,
trending news
,
trending update kpop