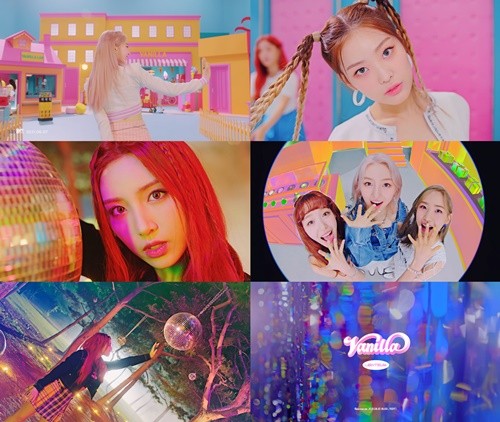 Cube Entertainment's rookie girl group LIGHTSUM continues their debut fever by releasing the second music video teaser for 'Vanilla.'
On June 9th, LIGHTSUM posted the second music video teaser of the debut song 'Vanilla' through their official YouTube channel and social media account. So, their visual beauty that stands out along with their splendid and dazzling appearance, caught the eyes of the fans.
The teaser released showed LIGHTSUM performing a powerful dance scene to an energetic beat. It starts with member Sangah's rap, "Yeah, Follow the Lights (Ha)."
So, the appearance and exciting beats of the LIGHTSUM members proved their fresh charms. They just showed off their first hit song from their debut. Fans are expecting their debut song to be the 2021 summer song.
Earlier, LIGHTSUM announced its launching and opened an official YouTube channel. It quickly achieved 100,000 subscribers. Then, the first music video teaser reached 150,000 views within 13 hours of its release. So, it is growing at a frightening pace, receiving enthusiastic support from K-POP fans even before their debut.
STEVEN LEE composed and arranged the debut single 'Vanilla.' Composer Steven Lee is also behind the international theme song 'In Memories' of the Marvel movie Avengers, 'Secret Garden' and 'Nonstop' of OH MY GIRL. Also, British composer J. Littlewood and Swedish singer-songwriter Caroline Gustavsson, who produced songs for Girls' Generation, AOA, and GFRIEND, participate in the song completion. It is a song with the participation of renowned domestic and foreign writers.
'LIGHTSUM' is a new girl group that Cube presents after three years of training. It consists of eight members: Sangah, Chowon, Nayoung, Hina, Juhyeon, Yujeong, Huiyeon, and Jian. After announcing its official launch, the group is heating up its debut fever with various promotions.
LIGHTSUM will release their debut single 'Vanilla' on various online music sites at 6 pm on June 10th.
Read More About: Sunmi & Tiffany To Appear On 'Girls Planet 999'
2021 kpop girl idols
,
2021 kpop news
,
2021 kpop news updates
,
2021 kpop updates
,
KPOP
,
Kpop 2021
,
Kpop artist
,
Kpop artists
,
Kpop idols
,
Kpop news
,
Kpop trend
,
Kpop trending
,
KPop trending news
,
Kpop trending now
,
KPOP2021
,
Kpopall
,
KPOPIDA
,
KPOPNEWS
,
lightsum
,
LIGHTSUM kpop
,
LIGHTSUM kpop update
,
rookie lightsum
,
trending kpop
,
Trending Kpop news
,
trending kpop update
,
trending update kpop