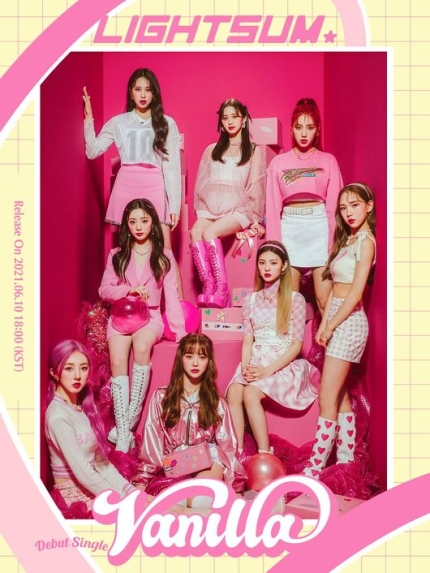 Cube Entertainment threw a new entry into the music industry by announcing the launch of the girl group LIGHTSUM.
Cube Entertainment will launch the girl group LIGHTSUM after about three years following (G)I-DLE in 2018. They will make their debut on June 10 and take their first step in the music industry with their debut song 'Vanilla.'
In addition, in the industry, several girl groups debuted in 2021. So, LIGHTSUM's move has emerged as an unexpected concern.
Particularly, K-pop fans' interest in LIGHTSUM's debut is hotter than ever. Starting with Juhyeon, she received attention from senior singers in the music industry. Earlier, she participated in 'Dancing High' and 'The Unit.'
Fans were enthusiastic whenever eight members, including Chowon, Nayoung, Yujeong, Sangah, Hina, Huiyeon, and Jian, were released sequentially.
Even before their debut, we pointed out the expected points to pay attention to for Cube's new girl group LIGHTSUM. They are receiving a lot of attention from global K-pop fans beyond the music industry.
▲ (MZ Generation) Millennials and Generation Z icon 'LIGHTSUM'
LIGHTSUM is a group composed of members of the actual MZ generation in the early and mid-2000s. Their music and performance can show the fresh charm of the high-teen group. It is impressive that members who have proven their ability to produce these performances are in LIGHTSUM.
In 2018, at the age of 13, leader Juhyeon appeared on 'Dancing High' and 'The Unit.'
She received praises from singer Rain as 'a dance machine that will succeed like BoA and Hyori Lee.'
Even at a young age, she showed her high potential to grow into a member of a girl group.
On top of that, Chowon, Nayoung, and Yujeong are former members of MNET Produce 48. They also have a great presence. Many talented idol trainees have loved them even during the program's airing due to their charm and skills.
Finally, new face members, which Cube never showed before includes, Sangah, Hina, Huiyeon, and Jian. But, they showed off their visuals and skills that did not fall behind even on auditioned members through a pre-content released earlier.
If the eight talented K-pop talents with colorful charms can serve as a bridge between the contemporary fandom and the public, they will surely grow into 4th generation idols representing the Millennials and Generation Z.
▲ Active fan communication before debut
Ahead of their debut, LIGHTSUM began to communicate actively with fans. Cube announced the launch news and set up a space for LIGHTSUM and fans early on. This is through its official YouTube channel, social media, and Cube's own fan site 'U-CUBE.'
The content that revealed the members of LIGHTSUM is 'Character Film.'
From dance performances to ballet, figure skating, and singing videos, it appealed to fans. In addition, the 'PR INTERVIEW' video, released in addition, gathered more fans for LIGHTSUM. The members appear in person to reveal their childhood stories, hobbies, and trivial episodes.
As of June 1, LIGHTSUM has achieved 100,000 subscribers to its official YouTube channel. They are building a fandom by capturing the hearts of domestic and foreign K-pop fans even before their debut.
Without stopping here, Cube held its first video call fan signing event with fans through LIGHTSUM's 'U-CUBE.'
They started communicating directly with fans. Curiosity about the members and New Face members who made strong impressions on the public through audition programs such as 'Produce 48' and 'The Unit' moved K-POP fans. The group completed their first video call fan signing event successfully, warming up the debut atmosphere in earnest.
▲ Believe, Listen, and See Cube Entertainment
The solid planning power of Cube Entertainment is also an expected point. Cube Entertainment produced several idol groups representing the music industry, including BEAST, 4Minute, BTOB, CLC, Pentagon, and (G)I-DLE. It has established itself as a representative K-pop management company that believes, listens, and sees various musical attempts and concepts. They satisfy both popularity and musicality at the same time.
Particularly, hit song maker Steven Lee composed and arranged their debut song 'Vanilla.'
He was also behind the songs 'Nonstop' and 'Secret Garden' of OH MY GIRL. Then, J.Littlewood and Swedish singer-songwriter Caroline Gustavsson, who made songs for Girls' Generation, AOA, GFRIEND, participated in the song completion. The song, completed by leading writers from locally and abroad, raised expectations for their debut to its peak.
There is a large influx of new fourth-generation idol groups in the music industry. But, Cube Entertainment's ambitious new girl group LIGHTSUM is attracting keen attention. Music fans are curious as to what kind of music and concept they will show.
Read More About: INFINITE, Unites Again To Celebrate 11th Debut Anniversary
2021 kpop girl idols
,
2021 kpop news updates
,
2021 news kpop
,
cube entertainment
,
KPOP
,
Kpop 2021
,
Kpop artist
,
Kpop artists
,
Kpop idols
,
kpop LIGHTSUM news
,
Kpop news
,
Kpop trend
,
Kpop trending
,
KPop trending news
,
Kpop trending now
,
KPOP2021
,
Kpopall
,
KPOPIDA
,
KPOPNEWS
,
lightsum
,
LIGHTSUM kpop
,
LIGHTSUM kpop update
,
new kpop girl group LIGHTSUM
,
new kpop group
,
Trending
,
trending kpop
,
Trending Kpop news
,
trending kpop update
,
trending news
,
trending update kpop