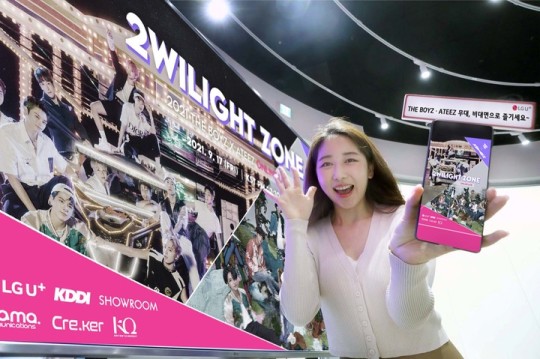 LG U+ announced on September 6th that they would collaborate with Japanese mobile 'KDDI' to co-produce and broadcast an online KPOP concert. This is the first non-face-to-face performance in collaboration between Korean and Japanese mobile carriers. Both companies will host an online concert '2021 THE BOYZ & ATEEZ ONLINE LIVE: "2WILIGHT ZONE", featuring idol groups 'THE BOYZ' and 'ATEEZ' on September 17th. The real-time performance will air exclusively on 'U+Idol Live.'
Customers can purchase tickets through the 'U+Idol Live' App.
In fact, through this online concert, customers will be able to enjoy at least 10 performances for about 90 minutes. Through this live broadcast, you can see the new song performances of 'The Boyz' and 'ATEEZ,' which are attracting attention as next-generation Kpop artists.
Anyone can watch this online concert regardless of the telecommunication company. The performance will run from 7:30 pm to about 9 pm on September 17th. The real-time ticket is 27,500 won (including VAT). Also, the package products that include the goods of each idol group vary from 40,000 won to 90,000 won. The price will depend on the configuration.
The purchased ticket allows simultaneous access on up to two devices. Supported terminals are mobile, PC, TV, and the likes. You can download and use the U+Idol Live app from the Android and iOS app markets on mobile. Also, you can view through the U+Idol Live website on PC and U+tv on IPTV.
Yunho Choi, XR Business Manager at LG U+, said, "In line with the rising status of KPOP in the global market, we are also jointly promoting the performance content business with KDDI, an overseas telecommunication company for the first time. So, I hope it can quench the thirst of Kpop fans on stage even a little."
Read More About: SHINee Key Releases New Solo Album 'BAD LOVE' On September 27th
2021 THE BOYZ & ATEEZ ONLINE LIVE: "2WILIGHT ZONE
,
KDDI
,
Korean celeb news
,
KPOP
,
Kpop artist
,
Kpop artists
,
kpop ATEEZ
,
kpop celebrity news
,
Kpop festival
,
kpop festival 2021
,
Kpop latest news
,
kpop latest updates
,
kpop music festival
,
Kpop news
,
Kpop recent news
,
Kpop trending
,
KPop trending news
,
KPOP2021
,
KPOPIDA
,
KPOPNEWS
,
latest kpop news
,
latest kpop updates
,
LG U+
,
LG Uplus
,
recent kpop news
,
THE BOYZ KPOP
,
trending kpop
,
Trending Kpop news
,
trending kpop update
,
trending news
,
trending update kpop
,
U+Idol Live' App