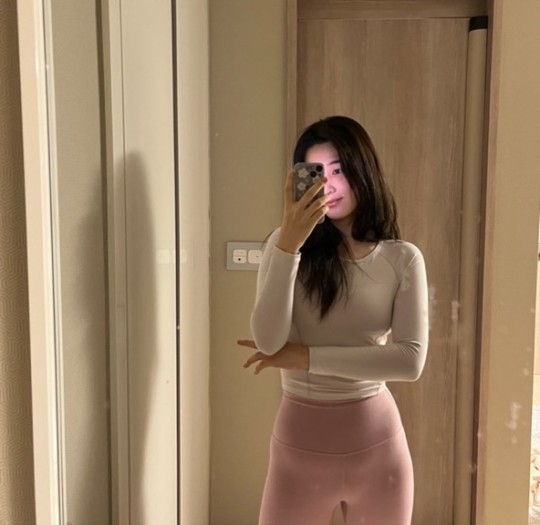 Yulhee, a former member of the K-pop group LABOUM, showed off her slim body.
Yulhee posted on her Instagram on January 12, "This year's goal is to reduce body fat. Since I have three children, it is not easy to get into the lower abdomen. This year, I'm going to focus on working on my forearms and lower abdomen."
In the published photo, Yulhee is posing in front of a mirror while wearing tight-fitting sportswear and leggings. Although she is a mother of three children, her slim body attracts attention.
Yulhee married Minhwan Choi, a member of the K-pop group FT Island, in 2018. They have a son, Jaeyul, and twin daughters, Ahyoon and Ahrin.
Currently, she is running a YouTube channel 'Yulhee's House.'
Read More About: 'Girls Planet 999′ Contestant Ito Miyu Signed An Exclusive Contract With Kep1ers' Mashiro & Yeseo Kang's Agency
daily kpop news
,
KPOP
,
Kpop artist
,
Kpop artists
,
kpop celebrity news
,
kpop daily news
,
Kpop idols
,
kpop laboum
,
Kpop latest news
,
Kpop news
,
Kpop recent news
,
Kpop shocking news
,
Kpop trend
,
Kpop trending
,
KPop trending news
,
Kpop trending now
,
kpop trending update
,
KPOP2021
,
KPOPIDA
,
KPOPNEWS
,
laboum
,
laboum comeback
,
laboum Journey to atlantis
,
laboum kpop
,
shocking kpop news
,
shocking news on Kpop
,
shocking news updates
,
Trending
,
trending 2021
,
trending kpop
,
Trending Kpop news
,
trending kpop update
,
trending news
,
trending update kpop