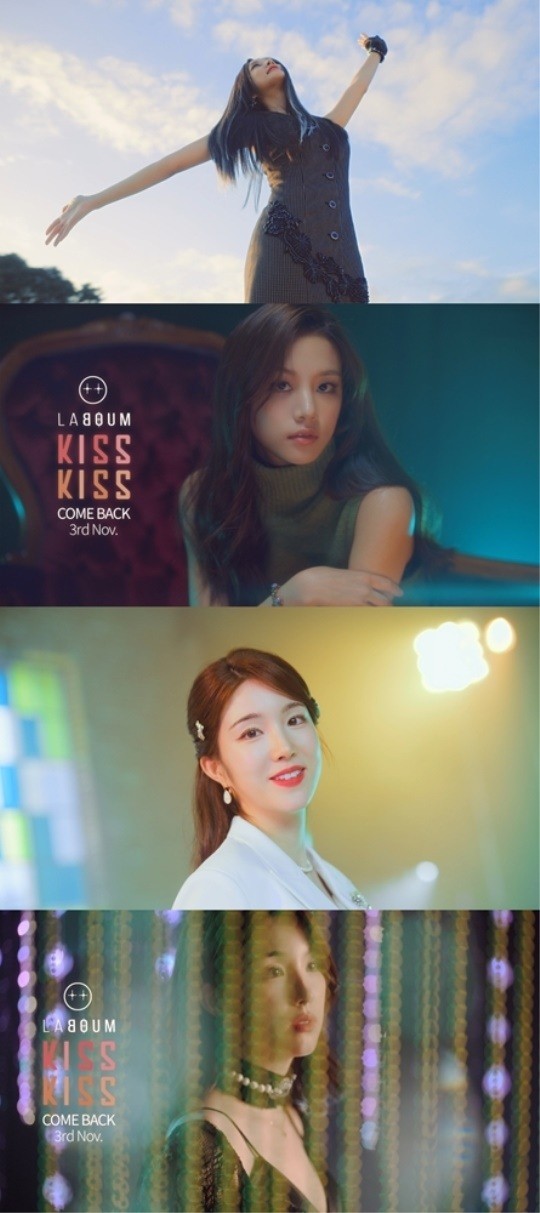 Kpop group LABOUM members Solbin and Jinye have reached their peak. At midnight on October 30 and 31, LABOUM (Soyeon, Jinye, Haein, and Solbin) released Solbin and Jinye's individual teaser videos for their 3rd mini-album 'BLOSSOM' through their official social media and YouTube channel.
In the released video, Solbin and Jinye showed off their pure and free-spirited appearance. Their provocative and soft charisma further raised the heat of their comeback. Even though it was a short video, the two showed off different charms, making fans excited. So, it is raising expectations for the new album.
First of all, Solbin presented her different charm through her individual teaser video. Solbin showed herself enjoying nature against the backdrop of the blue sky. She is wearing a dress that creates an elegant atmosphere. Also, she is staring at the camera with colorful makeup reminiscent of a cosmetic commercial.
Then, Jinye attracted attention by showing off her innocent charm, different from her intense image in the teaser released earlier. She is like a heroine in a fairy tale through the teaser video. In addition, Jinye reversed the atmosphere in an instant, showing a chic appearance. So, this makes it impossible to take your eyes off it for a moment.
In addition, at the end of the video, the complete appearance of pure white LABOUM members appeared, drawing admiration. So, it raises questions about the album, 'BLOSSOM' they will release soon.
Earlier, LABOUM released various contents such as tracklists and highlight medley. They also released individual and group concept photos. LABOUM is attracting the attention of fans by heralding various music styles and fan songs in which member Soyeon participated in composing and writing lyrics.
This third mini-album 'BLOSSOM' contains a total of four songs, including the title song 'Kiss Kiss,' 'How I Wish,' 'We're The Same,' and 'Love On You.'
The group aims to enter music charts with their deep sincerity.
Meanwhile, Kpop group LABOUM will release their third mini-album 'BLOSSOM' on various music sites at 6 pm on November 3.
Read More About: TO1 Unveils 2nd Mini-Albu, 'MIX' Version Individual Poster
best Kpop girl group
,
best kpop news site
,
best kpopstar
,
breaking news kpop
,
daily kpop news
,
Fandom
,
Korean celeb news
,
Korean singer
,
Korean singer songwriter
,
KPOP
,
Kpop album
,
Kpop beauty routine
,
Kpop boy group
,
kpop celebrity news
,
Kpop chart and news
,
Kpop colllaboration
,
KPOP comeback
,
Kpop current news
,
kpop daily news
,
Kpop fashion
,
Kpop girls group
,
kpop group NATURE
,
Kpop idols
,
Kpop issues
,
Kpop latest news
,
Kpop music chart
,
Kpop nature
,
Kpop news
,
Kpop news articles
,
Kpop news sites
,
kpop news update
,
Kpop recent news
,
Kpop skin care routine
,
Kpop skincare routine
,
KPop trending news
,
KPOPNEWS
,
NATURE
,
NATURE kpop
,
NATURE members
,
NATURE news
,
South Korean singer songwriter
,
the best kpop girl group
,
the best kpop girl group of 2021
,
the best kpop group of 2021
,
the top kpop group
,
top kpop boy group
,
top kpop girl group