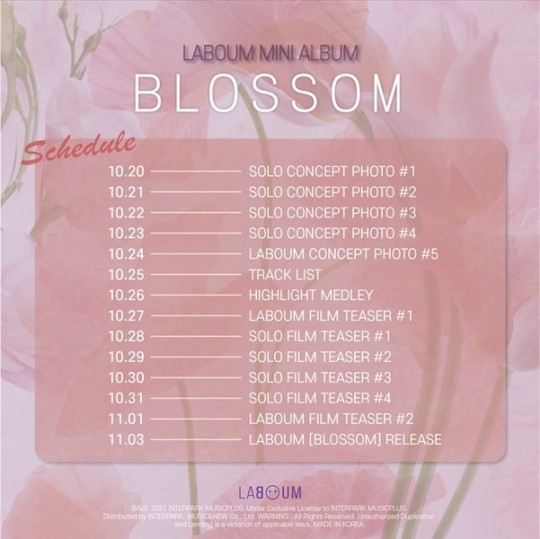 Kpop group LABOUM (Soyeon, Jinye, Haein, and Solbin) is writing down a new history with their new album. On October 19, Interpark Music Plus confirmed LABOUM's comeback on November 3 and released the comeback scheduler for the third mini-album, 'BLOSSOM.'
The comeback scheduler features the name of the third mini-album, 'BLOSSOM,' and a flower picture against the pink-tone background. So, it makes fans more excited about LABOUM's romantic fantasy. In addition, the scheduler reveals the release dates of various contents.
According to the scheduler, LABOUM will release individual and group concept photos from October 20 to 24 to reveal four styles of four members. After that, they will release the tracklist, highlight medley, and music video teaser sequentially to boost the heat of their comeback.
Mainly, LABOUM's third mini-album, 'BLOSSOM,' is a new album that they will release after the group reorganization. So, it is attracting the keen attention of the public as it is the first comeback in about a year since its first full-length album 'Two Of Us' and last year's digital single 'Cheese.'
Marking its seventh anniversary this year, LABOUM has created a syndrome of reverse driving with 'Journey To Atlantis' through MSG Wannabe on MBC's 'Hangout With Yoo.'
Earlier, LABOUM presented 'Journey To Atlantis' on Defense TV. It attracted attention, earning the modifier, 'Military Folk Song.'
As such, expectations are rising for what charm the upcoming third mini-album 'BLOSSOM' will attract the public with.
Kpop group LABOUM announced a new start with the comeback news. They will release their third mini-album, 'BLOSSOM,' at 6 pm on November 3. Also, they will once again communicate with fans through showcases and various contents.
Read More About: Stray Kids 'Thunderous' MV Hits 100 Million Views
best Kpop girl group
,
best kpop news site
,
best kpopstar
,
breaking news kpop
,
changmo
,
daily kpop news
,
Fandom
,
Foolish love
,
Jaejung Parc
,
Jungmin Kim
,
Korean celeb news
,
Korean singer
,
Korean singer songwriter
,
KPOP
,
Kpop album
,
Kpop beauty routine
,
Kpop boy group
,
kpop celebrity news
,
Kpop chart and news
,
Kpop colllaboration
,
KPOP comeback
,
Kpop current news
,
kpop daily news
,
Kpop fashion
,
Kpop girls group
,
Kpop idols
,
Kpop issues
,
Kpop latest news
,
kpop MSG Wannabe
,
Kpop music chart
,
Kpop news
,
Kpop news articles
,
Kpop news sites
,
kpop news update
,
Kpop recent news
,
Kpop skin care routine
,
Kpop skincare routine
,
KPop trending news
,
KPOPNEWS
,
MOM
,
msg wannabe
,
msg wannabe MOM
,
MSG Wannabe project
,
MSG Wannbe group
,
MSG Wannbe JDSK
,
simon dominic
,
South Korean singer songwriter
,
SUKJIN JI
,
the best kpop girl group
,
the best kpop girl group of 2021
,
the best kpop group of 2021
,
the top kpop group
,
top kpop boy group
,
top kpop girl group
,
WONSTEIN