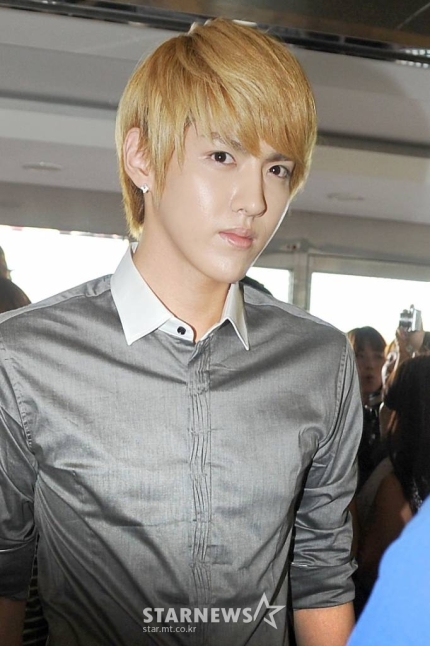 Chinese public security has released an interim investigation into Kris Wu (Chinese name Wu Yi Fan, ?亦凡, 30). He is a former member of the group EXO and now facing scandals of sexually assaulting a minor. The police said, "It is true that the exposer and Kris had sex. But, it's not confirmed yet whether or not they were sexually assaulted."
They plan to deal with it according to the law after the investigation.
On July 22nd (local time), the Beijing Public Security Bureau's Chaoyang Branch of the Beijing Public Security Bureau announced on Weibo the disclosure of Chinese college student and influencer Du Meizhu and the interim investigation into Kris Wu's alleged blackmail of Du Meizhu.
The incident started when Du Meizhu claimed in an interview with local media Wangyi Entertainment on July 8th. Du Meizhu says that "Kris Wu had sex with her by promising to support her entering the entertainment industry." In an interview, Du Meizhu caused a stir by claiming that there were more than eight victims, including herself. Two of them were minors. Kris Wu's side completely denied this and sued the exposer on July 14th. Kris Wu is claiming that the exposer is demanding a large amount of money and threatening him.
According to the public security interim investigation announcement, on December 5, last year, Kris Wu's manager brought Du Meizhu to Kris's house for an interview as the female lead in his music video. At the time, 10 people gathered at Kris's house for a drinking party. Then, after the people left, Kris had sex with Du Meizhu. Also, Kris Wu transferred about 32,000 yuan (6 million won) to Du Meizhu, three days later. After that, the two continued to keep in touch through WeChat (Chinese messenger) until April of this year. However, in June of this year, when she could not contact Kris, she revealed her relationship with Kris on the Internet.
Around this time, a 23-year-old man named Liu (23) approached Du Meizhu and shared information about Kris Wu's private life. After that, Liu pretended to be Du Meizhu and gave Kris the account numbers of him and Du Meizhu. Liu demanded about 3 million yuan (5331 billion won). However, Kris Wu only transferred 500,000 yuan (90 million won) to Du Meizhu's account. In this process, the public security judged that Du Meizhu was not conspiring with Liu, but that Liu was pretending to be Do Meizhu.
The public security is investigating the allegation that Kris Wu had sexually lured women several times. Related acts recently circulated on the Internet, saying that they would take legal action according to the results of the investigation.
Kris Wu, who once reigned as a top star in China due to this scandal, was notified of the cancellation of advertising contracts with about 10 brands. Also, he was virtually in danger of being expelled. The China Drama Production Industry Association also issued a statement saying, "The Wu Yi Fan incident has had a negative impact on the industry. Let's not give opportunities to unscrupulous actors."
Chinese law enforcement authorities have severely punished sexual offenses against minors. Last month, it was also revealed that a teacher who raped nine minors was sentenced to death.
Kris Wu, a Chinese-Canadian, made his debut as a member of the groups EXO and EXO-M in 2012. But, he withdrew from SM Entertainment in 2014 after filing an exclusive contract invalidation suit. Since then, he has been active in China.
Read More About: Brave Entertainment Releases An Official Apology For Poor Management Of Bussiness Related To Brave Girls
2021 kpop
,
2021 kpop news
,
2021 kpop news updates
,
2021 kpop updates
,
2021 news kpop
,
2021 updates on kpop
,
actor Kris Wu
,
EXO
,
Exo news
,
exo updates
,
EXO_Kris Wu
,
EXO_NEWS
,
idol kris wu
,
KPOP
,
Kpop 2021
,
Kpop artist
,
Kpop artists
,
Kpop news
,
Kpop trend
,
Kpop trending
,
KPop trending news
,
Kpop trending now
,
kpop trending update
,
KPOP2021
,
KPOPIDA
,
KPOPNEWS
,
Kpopnews 2021
,
Kpopnews2021
,
Kris Wu
,
Trending
,
trending 2021
,
trending kpop
,
Trending Kpop news
,
trending kpop update
,
trending news
,
trending update kpop