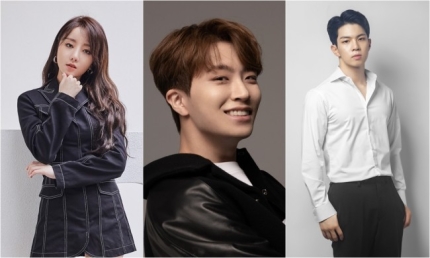 K-pop stars such as Lovelyz's Jiae, GOT7's Youngjae, and N.Flying's Hweseung Yoo have confirmed guest appearances on 'On Air-Secret Contract.'
On the 1st, theater-type live sitcom 'On Air-Secret Contract' said, "Lovely's Jiae, GOT7's Youngjae, and N.Flying's Hweseung will appear as guests to decorate a different stage."
'On Air-Secret Contract' recently attracted attention with the surprise appearance of various idol stars. It includes Super Junior's Eunhyuk and Shindong, Victon Heo Chan, Sejun Lim, Golden Child Y, and Minkyu Kim. Subsequently, Jiae, Youngjae, and Hweseung have decided to appear as guests in succession. Hot responses from Fans around the world are to be expected.
K-Pop stars, Lovelyz's Jiae and GOT7's Youngjae were cast in the musical 'Song of the Sun' opening in May, which is in full swing. Viewers expected them to prove their outstanding potential as musical actors. They honed through the stage of 'On Air-Secret Contract.'
N. FLYING's Hweseung Yoo also proved his ability in the musical 'Gwanggoat Sonata.'
He received high praises, raising questions about what charm he will present in 'On Air-Secret Contract.'
Currently, 'On Air-Secret Contract' attracts attention as an interactive performance, directly communicating with the audience, featuring k-pop stars. Accordingly, viewers expect Jiae, Youngjae, and Hweseung to prepare meaningful time by interacting closely with fans around the world on this stage.
'On Air-Secret Contract' is a comical romance between a tough and arrogant top idol, DJ Aaron (Andrei), and Woori Shin who knows his secret. The show will take place at Gwanglim Art Center in Seoul until April.
Other Articles You Might Be Interested In:
iKON Confirms Comeback On March 3rd
Blackpink Rose Once Again Raised The Expectation Of Fans