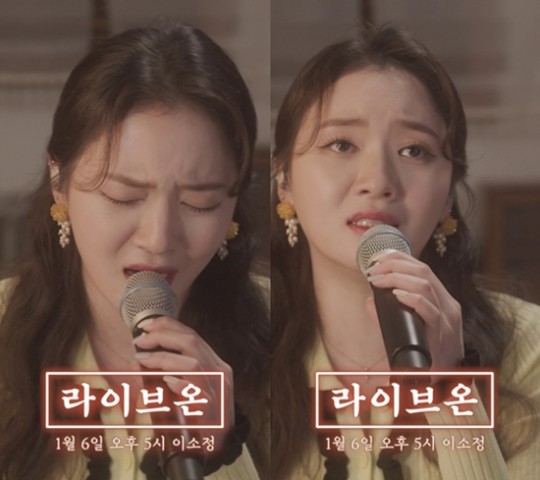 Kpop singer Sojung Lee will release her 'Moonshine' OST live clip video. On the morning of January 6, Vlending, a music distribution company, said, "Today, January 6, at 5 pm on Vlending's official YouTube channel, we will release the live clip of the OST 'Love Me Again' for the KBS2 Monday-Tuesday drama 'Moonshine' sung by Sojung Lee.
The live clip will deliver a different impression from the music version with Sojung's unique charming voice and deep emotion." 
'Love Me Again' sung by Kpop singer Sojung Lee, released on December 27 last year, is the second OST of the drama 'Moonshine.'
Much attention has continued since the news that Sojung will be in the lineup for 'LI:V On,' previously released through the Vlending social media channel.
Mainly, Sojung Lee showed off her perfect live performance, saying, "Didn't you just play the file you've recorded in advance?" among staff members, showing off her unwavering vocals even after more than ten takes.
Meanwhile, the 'LI:V ON' January lineup includes Sojung Lee and Sangyeop Choi, a refreshing vocalist of the Kpop band LUCY. Both will release the OST for 'Moonshine,' raising many fans' interest in the February lineup that Vlending will announce later.
Read More About: Youngwoong Lim 'My Starry Love' Official MV Hits 46 Million Views
best Kpop girl group
,
best kpop news site
,
best kpopstar
,
breaking news kpop
,
daily kpop news
,
Fandom
,
Gwangil Shin
,
I Got U
,
K-BAND
,
Korean celeb news
,
Korean singer
,
Korean singer songwriter
,
KPOP
,
Kpop album
,
Kpop beauty routine
,
Kpop boy group
,
kpop celebrity news
,
Kpop chart and news
,
Kpop colllaboration
,
KPOP comeback
,
Kpop current news
,
kpop daily news
,
Kpop fashion
,
Kpop girls group
,
Kpop idols
,
Kpop issues
,
Kpop latest news
,
kpop LUCY
,
Kpop music chart
,
Kpop news
,
Kpop news articles
,
Kpop news sites
,
kpop news update
,
Kpop recent news
,
Kpop skin care routine
,
Kpop skincare routine
,
KPop trending news
,
KPOPNEWS
,
lucy
,
LUCY KPOP
,
LUCY kpop album
,
Sangyeop Choi
,
South Korean singer songwriter
,
the best kpop girl group
,
the best kpop girl group of 2021
,
the best kpop group of 2021
,
the top kpop group
,
top kpop boy group
,
top kpop girl group
,
Wonsang Cho
,
Yechan Shin