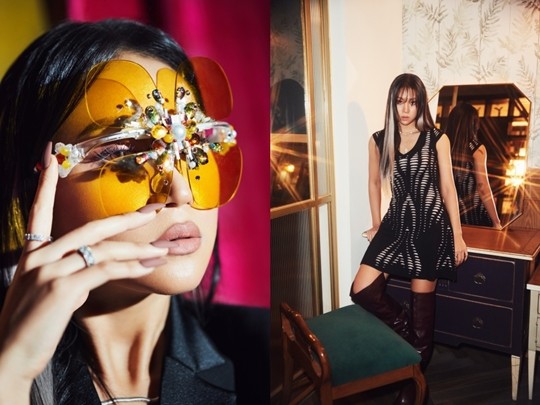 Kpop singer Nada, who announced her comeback on November 29, released a concept photo full of charm, gaining attention. Nada raised expectations for her comeback by posting a concept photo of her digital single 'Bulletproof' ahead of its release on November 29 through her official social media channel at 6 pm on November 22. The concept photo released on this day caught viewers' attention as it consisted of photos with an atmosphere different from the intense sexy beauty that Nada has previously shown.
In the first photo, Nada appeared wearing butterfly-shaped sunglasses decorated with jewels of various colors. She is creating a calm image with nude makeup and nails. At the same time, she showed off her unique charm by giving off a charismatic look through her sunglasses.
In another photo, her hair with bangs created another atmosphere. Nada had a strong yet alluring charm with a black dress and long boots. Also, she maximized her luxurious charm by utilizing gold-toned lighting and props.
Nada's appearance is in stark contrast to the digital single 'spicy,' released in July, drawing curiosity from many music fans.
Earlier on November 19, Nada suddenly announced the release of her new single 'Bulletproof' on her official social media channel. She also revealed a timetable using blue and black colors as the main theme, raising questions by suggesting an image change.
In 'Spicy,' Nada earned a new modifier by showing various music videos and concept photos using intense red images. She has launched a concept photo with alluring charm and beauty this time, raising questions about how she will meet fans.
Meanwhile, Kpop singer Nada will release her new single 'Bulletproof' through major domestic music sites at noon on November 29. Then, she will also release the music video on the same day.
Read More About: ATEEZ Hongjoong Keeps His Promise To Fans By Busking In Gyeongju
best Kpop girl group
,
best kpop news site
,
best kpopstar
,
breaking news kpop
,
daily kpop news
,
Fandom
,
Korean celeb news
,
Korean singer
,
Korean singer songwriter
,
KPOP
,
Kpop album
,
Kpop beauty routine
,
Kpop boy group
,
kpop celebrity news
,
Kpop chart and news
,
Kpop colllaboration
,
KPOP comeback
,
Kpop current news
,
kpop daily news
,
Kpop fashion
,
Kpop girls group
,
Kpop idols
,
Kpop issues
,
Kpop latest news
,
Kpop music chart
,
KPOP NADA
,
Kpop news
,
Kpop news articles
,
Kpop news sites
,
kpop news update
,
Kpop recent news
,
Kpop singer NADA
,
Kpop skin care routine
,
Kpop skincare routine
,
KPop trending news
,
KPOPNEWS
,
NADA
,
rapper NADA
,
singer NADA
,
South Korean singer songwriter
,
SPICY
,
the best kpop girl group
,
the best kpop girl group of 2021
,
the best kpop group of 2021
,
the top kpop group
,
top kpop boy group
,
top kpop girl group
,
Wassup
,
Wassup member
,
Yejin Yoon