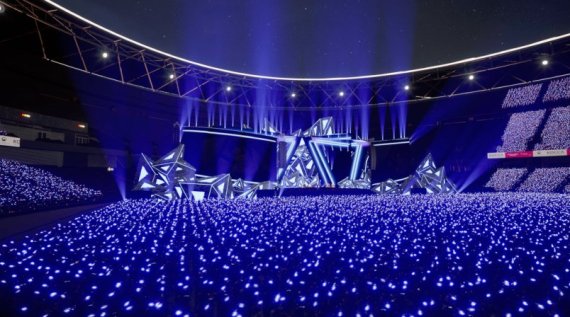 The value, history, and status of Kpop viewed through a virtual stadium will open as a new realistic performance.
The Ministry of Culture, Sports and Tourism and the Korea Creative Content Agency will release a new realistic performance series, 'ON THE K.'
They will release the first performance on YouTube's music channel 'KOCCA Music' on October 29.
This performance is a compilation of sensory technology performances that have emerged since the outbreak of COVID-19. It will present performances that show the value, history, and status of Kpop through various sensory technologies. The concert, 'ON THE K: THE FIRST STAGE,' consists of three themes. It includes History of Kpop, Value of Kpop, and Status of Kpop.
In the history of Kpop, solo artist Sewoon Jeong takes time to look back on the history of Kpop. They will present a hit song medley, combining songs of famous artists from the 1990s to the present era.
In the value of Kpop, Woodz and ONF perform virtual performances to provide a vivid sense of presence. The Virtual stadium is where you can feel like you are on a real offline concert site. So, this Virtual performance adds a sense of immersion. There will be a cheering harmony that contains the real voices of the fans. So, you can enjoy the show with a performance effect that adds emotion to both artists and fans, like an actual offline stage. Also, a 3D sound maximizes the sense of immersion.
In the status of Kpop, it will be full of performances by representative Kpop artists who are active at the forefront of the Korean Wave. ITZY, Super Junior D&E, MONSTA X, and CRAVITY will perform to capture the hearts of fans worldwide.
The performance will be available at 9 pm on October 29 through the Korea Creative Content Agency YouTube music channel 'KOCCA MUSIC.'
In addition, the performance will take place as an event called 'STAGE K-POP.'
Then, they will invite 1,130 Kpop fans to CGV Grand Indonesia, located in Indonesia, on October 31.
The realistic performance series 'ON THE K' is a planned performance series by KOCCA Music Studio, opening at the end of November. They will continue introducing realistic performances such as metaverses, holograms, and stereoscopic sound until the first half of next year.
KOCCA Music Studio is an online performance studio created to revive the stagnant performance industry due to the prolonged COVID-19. It supports the production of high-quality performance content.

The KOCCA Music Studio will be remodeled and opened at the Olympic Park K-Art Hall. It will open at the end of November after completing internal construction. The 'ON THE K' series will introduce various realistic performance models before supporting performances by small and medium-sized agencies that will take place in earnest from 2022.
Read More About: NCT Dream, The Next Generation Trending Group Leading KPOP
2021 kpop news
,
2021 kpop news updates
,
2021 kpop updates
,
2021 news kpop
,
best kpop news site
,
daily kpop news
,
Korean celeb news
,
KPOP
,
Kpop 2021
,
Kpop artist
,
Kpop artists
,
kpop celebrity news
,
kpop daily news
,
Kpop idols
,
Kpop latest news
,
Kpop news
,
Kpop recent news
,
KPop treasure
,
Kpop trend
,
Kpop trending
,
KPop trending news
,
Kpop trending now
,
kpop trending update
,
KPOP2021
,
Kpopall
,
KPOPIDA
,
KPOPNEWS
,
Kpopnews 2021
,
Kpopnews2021
,
latest kpop news
,
recent kpop news
,
Trending
,
trending 2021
,
trending kpop
,
Trending Kpop news
,
trending kpop update
,
trending news
,
trending update kpop