Kpop idols Hwasa of Mamamoo, Joy of Red Velvet, and Jennie of Blackpink shared their daily life through their Instagram post.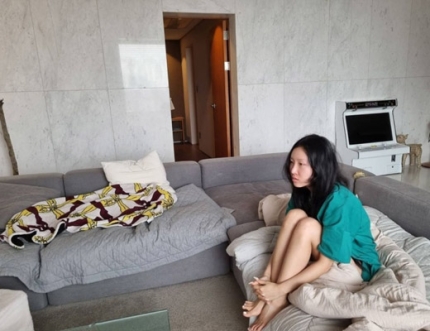 First, kpop idol Hwasa, a member of the girl group Mamamoo, boasted her shaggy charm.
On the 27th, Hwasa posted two photos on her personal Instagram with the caption "1 year later."
In the released photos, Hwasa is sitting alone in her own house, which was also revealed in MBC's 'I Live Alone'. The simple and friendly atmosphere is eye-catching.
Netizens who saw this photos showed various reactions such as:
"Weekend Me"
"Hwasa is so cute"
"I love you"
Meanwhile, Hwasa will appear as the first guest on KBS 2TV 'Comeback Home', which will air for the first time on April 3rd.
Second, kpop idol Joy of Red Velvet shared her weekend routine.
On the 28th, Group Red Velvet's member Joy posted photos through her Instagram story.
In the photos released that time, Joy is concentrating on Flying Yoga with a flexible attitude.
Most of all, despite wearing sportswear revealing her body line, she boasted a slim body without any traces of fat. It attracted the attention of netizens.
Meanwhile, Red Velvet's Joy received the 'Singer of the Year' award at the 10th Gaon Chart Music Awards. In October of last year, the tvN drama 'Startup' OST 'Future' was also released.
Third, kpop idol Jennie of Blackpink started cheering for Rosé.
Blackpink member Jennie posted a video through her Instagram story on the 29th.
In the video released at that time, there is a picture of Jennie raging excitement by lip-syncing following Rosé's 'On The Ground.
At the same time, Jennie is showing off her doll-like visual in pajamas, which caught the attention of viewers.
On the other hand, Blackpink Rosé appeared on US NBC 'The Kelly Clarkson Show' on the 29th. She shared a variety of stories related to her solo single album 'R.'
Read More About: Blackpink Jennie Showed Off Her Seductive Beauty
Blackpink
,
Blackpink Jennie
,
Blackpink_Jennie
,
BlackpinkRosé
,
hwasa mamamoo
,
Jennie blackpink
,
Joy_Red velvet
,
KPOP
,
Kpop artist
,
Kpop artists
,
kpop hwasa
,
Kpop idols
,
kpop instagram
,
kpop jennie
,
Kpop Joy
,
Kpop news
,
Kpop trending
,
KPop trending news
,
KPOP2021
,
KPOPIDA
,
KPOPNEWS
,
mamamoo
,
mamamoo updates
,
Mamamoo_hwasa
,
red velvet_Joy
,
RED_VELVET
,
RED_VELVET_Joy
,
Trending Kpop news
,
trending news