Kpop idols and lovers Hyuna and Dawn, and kpop idol Bae Suzy shared their daily life on Instagram through their posts.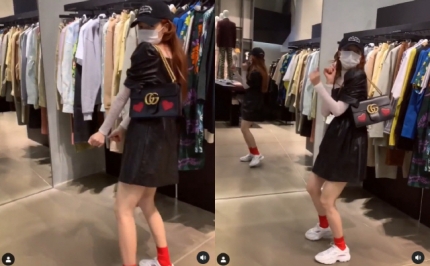 First, Hyuna made the department store like a stage.
On the 28th, she posted a video on her Instagram along with the article "Woo~~~~~".
In the released video, there is a figure of Hyuna dancing in a clothing store. She boasted her black and white clothes paired with red socks and is riding a rhythm while walking around the store. Her boyfriend, Dawn, captured this appearance. The pleasant daily life of the couple Hyuna and Dawn stands out.
She posted a video of her dancing in front of Dawn through SNS. She left a post saying, "Thank you for always accepting everything ♥ I love you anyway, I love the song. Afterward, people can see the special affection of Hyuna for Dawn through the image of her dancing for him.
Meanwhile, Hyuna and Dawn, who are publicly dating, are together under the management company Pination.
Next, kpop idol Bae Suzy Bae fell in love with the song 'Imagination' by Laboum.
On the 28th, Bae Suzy posted on her Instagram, "Shall we go to our imagination, imagination's future!" with her photo
In the photo, Bae Suzy was streaming 'Imagination' of girl group LABOUM. LABOUM released their song 'Imagination' in 2016. It is a song with a unique harmony of colorful string lines, trendy synth sounds, and retro pop drums. It reminds the 1990s. The lyrics expressed various emotions, such as excitement and hope. You can felt the adventure of finding paradise in the imagination. Also, dreaming of escaping from the boring life that repeats every day. In addition, Bae Suzy said that the song is impressive.
She also fell in love with 'Imagination,' which is gaining popularity with Brave Girls 'Rolin.' In response to streaming certification, LABOUM members Solbin and Soyeon expressed their gratitude by commenting, "I love you."
Meanwhile, Bae Suzy performed as Dal-mi Seo in the tvN Saturday drama 'Startup' that aired last year.
Read More About: Girls Generation Yuri Showed Off Her Sexy S-Line Body
2021 kpop news updates
,
2021 kpop updates
,
Allkpop
,
KPOP
,
Kpop 2021
,
Kpop artist
,
Kpop artists
,
kpop idol instagram
,
Kpop idols
,
Kpop news
,
Kpop trend
,
Kpop trending
,
KPop trending news
,
Kpop trending now
,
kpop trending update
,
KPOP2021
,
Kpopall
,
KPOPIDA
,
KPOPNEWS
,
Kpopstars
,
Trending
,
trending 2021
,
trending kpop
,
Trending Kpop news
,
trending kpop update
,
trending news