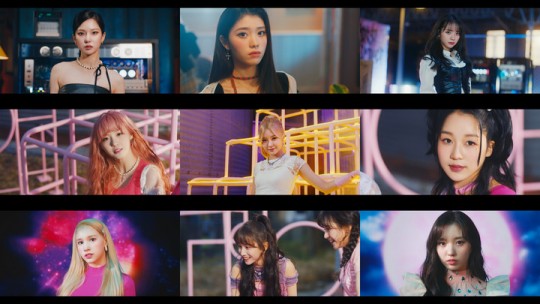 Rookie girl group Kep1er started counting down towards their debut by releasing the connection film.
According to Wake One and Swing Entertainment on December 27, Kep1er (Sakamoto Mashiro, Yeseo Kang, Ezaki Hikaru, Youngeun Seo, Yujin Choi, Dayeon Kim, Chaehyun Kim, Shen Xiaoting, and Huening Bahiyyih) released a connection film video of their debut album 'FIRST IMPACT' on their official social media at midnight.
The released video showed Kep1er gathering together with a drowsy look. Since then, Kep1er has been seen focusing on the lights and sounds outside the window. After that gaze, another telescope released on Kep1er's official website on December 25 has been captured.
In addition, they converted each scene to a heavy sound containing nine different charms of the nine members. Also, the film revealed Kepler's silhouette at the end of the video.
Meanwhile, the title song of Kep1er's debut album 'FIRST IMPACT,' set for release on January 3 next year, is 'WA DA DA.'
The group name 'Kepler,' is a combination of 'Kep,' meaning catching a dream, and the number '1,' meaning that nine girls gather as one to become the best.
Rookie girl group Kep1er will continue to communicate with global fans through various activities for two years and six months.
Read More About: Kpop Rapper JIN To Release His New Song 'The End Is Always' Today!
2021 kpop news
,
2021 kpop news updates
,
best kpop news site
,
breaking news kpop
,
daily kpop news
,
girl group Kep1er
,
group Kep1er
,
kep1er
,
Kep1er debut
,
Kep1er kpop
,
Kep1er members
,
Kep1er news
,
Korean celeb news
,
KPOP
,
Kpop artist
,
kpop celebrity news
,
Kpop chart and news
,
Kpop current news
,
kpop daily news
,
Kpop idols
,
kpop Kep1er
,
kpop Kep1er news
,
Kpop latest news
,
Kpop news
,
Kpop news articles
,
Kpop news sites
,
kpop news update
,
Kpop recent news
,
Kpop trending
,
KPop trending news
,
KPOP2021
,
KPOPIDA
,
KPOPNEWS
,
rookie group Kep1er
,
rookie Kep1er
,
Trending Kpop news
,
trending news