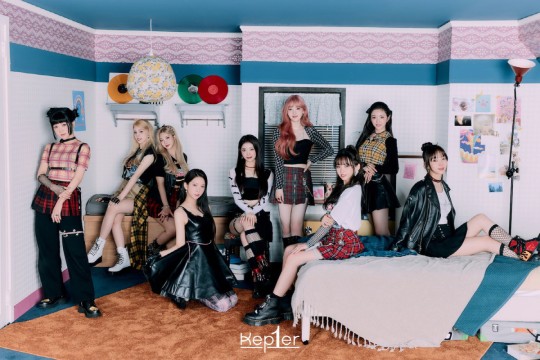 Rookie girl group Kep1er, selected through 'Girls Planet 999,' has delayed their debut activities due to a staff member's positive COVID-19 PCR test result.
Kep1er's agency, Wake One, and Swing Entertainment said on December 5, "We are announcing the postponement of our artist Kep1er's activity schedule, which was about to debut on December 14. As soon as the staff showed symptoms of infection, the artist preemptively tested for COVID-19, and all of them were negative. Currently, the members are not showing symptoms of infection such as fever or respiratory disease."
The agency continued, "All related staff underwent COVID-19 testing, and there are no additional cases so far. Also, all those who have not yet received results are in quarantine. We completely suspended scheduled activities, as well as Kep1er's debut schedules. So, we apologize to the fans and all those involved in waiting for Kep1er's debut. We will announce the schedule for resuming activities later."
Finally, they added, "We will do our best to ensure that artists and staff can work in the safest environment. We will actively cooperate with the authorities' instructions and procedures."
Kep1er is a rookie girl group, selected through Mnet's 'Girls Planet 999: Girls' War.'
The group includes Yujin, Mashiro, Xiaoting, Chaehyun, Dayeon, Hikaru, Huening Bahiyyih, Youngeun, and Yeseo. They are supposed to debut on December 14 and scheduled to meet the fans first at the '2021 Mnet Asian Music Awards' on December 11. However, their agency decided to postpone their scheduled activities in the meantime.
Read More About: MONSTA X, IU, and AESPA, First Place Candidates On 'Show! Music Core'
best Kpop girl group
,
best kpop news site
,
best kpopstar
,
breaking news kpop
,
daily kpop news
,
Fandom
,
Korean celeb news
,
Korean singer
,
Korean singer songwriter
,
KPOP
,
Kpop album
,
kpop award ceremony
,
Kpop awards
,
Kpop beauty routine
,
Kpop boy group
,
kpop celebrity news
,
Kpop chart and news
,
Kpop colllaboration
,
KPOP comeback
,
Kpop current news
,
kpop daily news
,
Kpop fashion
,
Kpop girls group
,
Kpop idols
,
Kpop issues
,
Kpop latest news
,
KPOP MAMA awards
,
kpop music awards
,
Kpop music chart
,
Kpop news
,
Kpop news articles
,
Kpop news sites
,
kpop news update
,
Kpop recent news
,
Kpop skin care routine
,
Kpop skincare routine
,
KPop trending news
,
KPOPNEWS
,
MAMA
,
MAMA awards
,
MAMA kpop
,
Mnet
,
Mnet Asian Music Awards
,
Mnet program
,
MNET SHOW
,
Mnet TMI News
,
South Korean singer songwriter
,
the best kpop girl group
,
the best kpop girl group of 2021
,
the best kpop group of 2021
,
the top kpop group
,
TMI NEWS
,
top kpop boy group
,
top kpop girl group