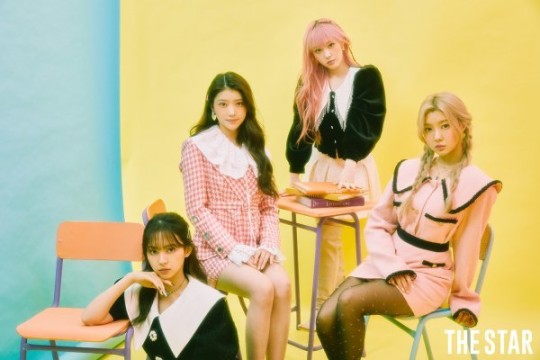 The full cover of Kep1er, who took their first fashion pictorial after their debut, was released. Rookie group Kep1er member Yujin Choi said, "I didn't expect a hot response."
In this pictorial published in the February magazine of 'The Star,' Kep1er showed their colorful charm with the concept of 'Girls' School.'
In the published photos, Kep1er shows off each different teen styling, exuding a girly visual. Notably, at the photoshoot, they radiated their pleasant energy and showed politeness, revealing their professional idol-like side.
In an interview following the photoshoot, when asked about their debut impressions, Yujin Choi said, "I didn't know that many people would like, WA DA DA. In order not to disappoint, I will work hard to show you a better image."
Then, about the synergy that members can create, Bahiyyih said, "I think synergy is to become one as a team. So, if something happens, we always get together, talk, and solve it together."
Then, Yujin Choi replied, "You can see Kep1er's bright energy even on stage!"
Regarding the missing interest these days, Xiaoting said, "I'm curious how the fans will see the performance, songs, and fancams. I hope you like it a lot," she confessed frankly.
As for what kind of music activity they want to pursue in the future, Chaehyun Kim said, "I want to try various genres. No matter what genre, I will show you a lot of energetic images with Kep1er's unique charm."
Lastly, about the wishes they want to achieve, Youngeun said, "I want to work hard. I want to receive the Rookie of the Year award. I hope everyone doesn't get sick. Also, I hope they have a fun and happy time."
You can find rookie group Kep1er's more individual pictorials, group interviews, personalized interviews, and selfie photo cards for each member presented as a special gift in the February magazine of The Star.
Read More About: BTS Jimin's 'Serendipity Full Length' Hits 180 Million Streams On Spotify
best kpop news site
,
breaking news kpop
,
daily kpop news
,
girl group Kep1er
,
group Kep1er
,
kep1er
,
Kep1er debut
,
Kep1er kpop
,
Kep1er members
,
Kep1er news
,
Korean celeb news
,
KPOP
,
Kpop artist
,
Kpop artists
,
kpop celebrity news
,
Kpop chart and news
,
Kpop current news
,
kpop daily news
,
Kpop idols
,
kpop Kep1er
,
kpop Kep1er news
,
Kpop latest news
,
Kpop news
,
Kpop news articles
,
Kpop news sites
,
kpop news update
,
Kpop recent news
,
Kpop trending
,
KPop trending news
,
Kpop trending now
,
KPOP2021
,
KPOPIDA
,
KPOPNEWS
,
rookie group Kep1er
,
rookie Kep1er
,
trending kpop
,
Trending Kpop news
,
trending kpop update
,
trending news