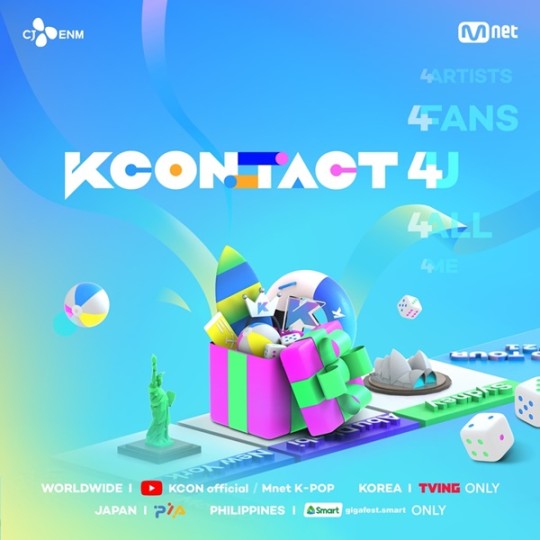 'KCON:TACT 4 U,' hosted by CJ ENM, will be held for 9 days from June 19th to the 27th.
Following the last season, 'KCON:TACT 4 U' has a world tour concept where the artist leaves for the existing KCON host city and invites the audience to a stage specialized for each city, such as New York, Australia, and Mexico. In addition, they will prepare special performances of artists that are usually difficult to meet. So, this concept is raising expectations even more.
In this 'KCON:TACT 4 U,' you can see various artists' cover and collaboration performances. Sungwoon Ha, who attracted attention for his collaboration with Donghyun of AB6IX last season, prepares a special collaboration with junior artist Weeekly's Monday and Jihan. So, it is raising the curiosity of fans. Also, Oh My Girl, Everglow, and Verivery will cover songs of their senior K-pop artists to present different performances.
Various artists such as BEAST (Highlight), Stray Kids, and ONF will also show their performances of songs from their albums. Stray Kids' Seungmin, I.N, and Changbin were going to show the performance of the unit song 'My Universe.' In short, special performances by various K-pop artists are waiting for you.
Mnet Digital Studio M2's representative contents 'Self-Cam' and 'Relay Dance' are also available in the 'KCON:TACT' version. Artists will be with audiences on stage and present different forms of performances and content. There will also be a fan-featuring stage filled with the signature of 'KCON:TACT' and the voices and messages sent by fans. Particularly, artists and fans worldwide will sing along to Psy's 'Champion,' the ending song.
The cast of 'Kingdom: Legendary War,' which has set a record of 300 million views on digital clips by showing passion and charm for music by K-pop artists, will also recreate the glory of 'Kingdom' once again in 'KCON:TACT 4 U.'
BTOB, iKON, SF9, THE BOYZ, and Stray Kids will be on stage on June 26th (Saturday) and 27th (Sunday). They will present the 'Kingdom Day,' to show popular new songs and unit performances.
The 'Music Room' corner will deliver the joy of listening to the audience with performances that emphasize the artist's musicality. Also, it will provide audiences with more perfect and vivid sound with its Virtual 3D Sound technology.
BEAST (Highlight), BTOB, iKON, Oh My Girl, and Golden Child are preparing a high-quality performance through the 'Music Room' corner.
'Meet & Greet,' a representative online fan meeting of 'KCON:TACT 4 U,' will have time to communicate with fans. They will conduct customized games for each artist with Kikwang Lee as the host for two consecutive times. It will feature a high-touch through a first-person point-of-view camera.
A total of 27 groups from K-pop trending artists will be on the 'KCON:TACT 4 U.' It includes A.C.E, ASTRO, BTOB, CNBLUE, Everglow, Fromis_9, Ghost9, Golden Child, Sungwoon Ha, BEAST (Highlight), iKON, ITZY, JO1, Loona, Oh My Girl, ONEUS, ONF, P1Harmony, Pentagon, Seventeen, SF9, Stray Kids, The Boyz, TO1, Verivery, Weeekly, and Weki Meki.
K-Pop fans can watch 'KCON:TACT 4 U' exclusively on TV in Korea. Also, you can watch live at CGV movie theaters.
Read More About: KINIE.K Comeback On June 22 With Her Self-Composed Song 'E.M.M.M'
2021 kpop
,
2021 kpop news
,
2021 kpop news updates
,
2021 kpop updates
,
2021 news kpop
,
2021 updates on kpop
,
A.C.E kpop
,
astro news
,
BEAST
,
btob
,
CNBLUE
,
everglow
,
FROMIS_9
,
Ghost9
,
GOLDEN CHILD
,
Ha Sungwoon
,
Ikon
,
ITZY
,
JO1
,
KCON:TACT 4 U
,
KPOP
,
Kpop 2021
,
Kpop artist
,
Kpop artists
,
Kpop idols
,
Kpop news
,
Kpop trend
,
Kpop trending
,
KPop trending news
,
Kpop trending now
,
kpop trending update
,
KPOP2021
,
Kpopall
,
KPOPIDA
,
KPOPNEWS
,
Kpopnews 2021
,
LOONA
,
oh my girl
,
ONEUS
,
ONF
,
p1harmony
,
Pentagon
,
Seventeen
,
sf9 kpop
,
straykids
,
the boyz
,
TO1 Kpop
,
Trending
,
trending 2021
,
trending kpop
,
Trending Kpop news
,
trending kpop update
,
trending news
,
trending update kpop
,
VeriVery
,
Weeekly
,
WEKI MEKI