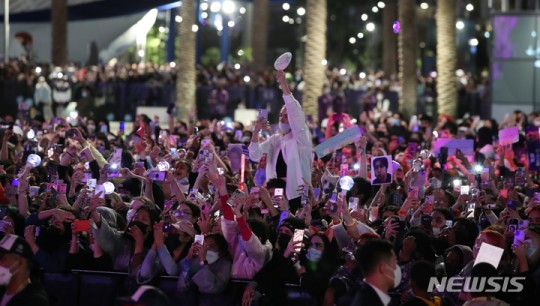 Soth Korean President Jae-in Moon and First Lady Jung-sook Kim, who are visiting the United Arab Emirates (UAE), watched a K-pop concert held in Dubai on January 16 (UAE time). The 'Korea Day K-Pop Concert' took place at the Dubai Expo outdoor performance venue, Jubilee Park. K-pop group Stray Kids, the public ambassador for the Dubai Expo Korea Pavilion, 'World Star' Psy, singer Sunmi, group (G)I-DLE, and group Golden Child participated and presented an excellent performance. In addition, many K-pop fans who visited the concert venue enjoyed the performance with light sticks in their hands.
President Jae-in Moon and his wife entered during the K-Pop concert. They sat on the left side of the stage to watch the performance. Singer Psy, who was performing at the time, introduced President Moon's attendance to the audience. President Moon and his wife got up from their seats and waved their hands to the audience.
After watching the performance, President Jae-in Moon and his wife made a surprise visit to the waiting rooms of K-Pop artists to directly encourage them.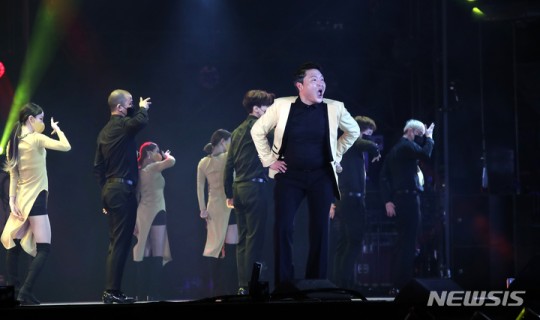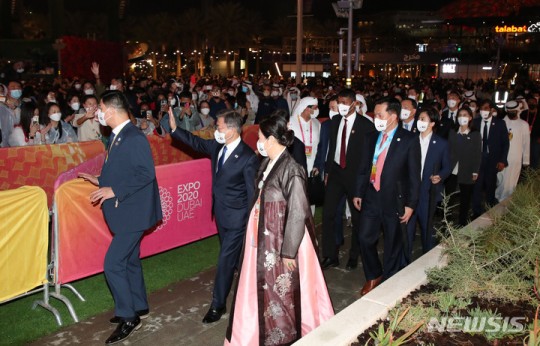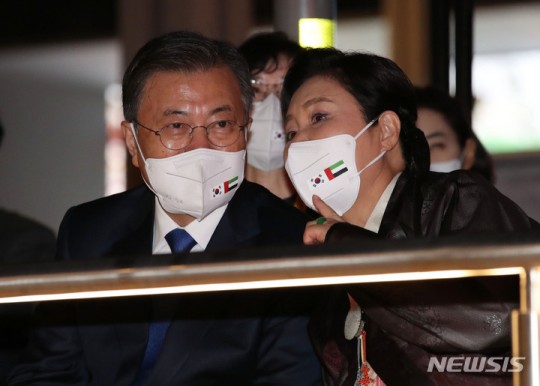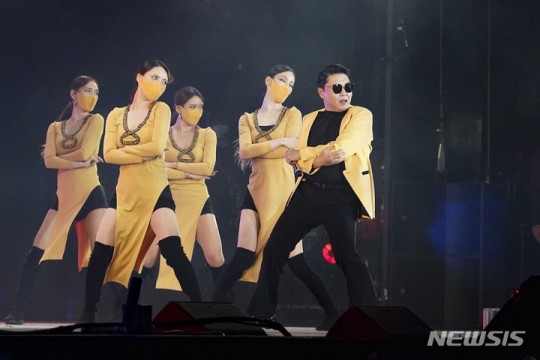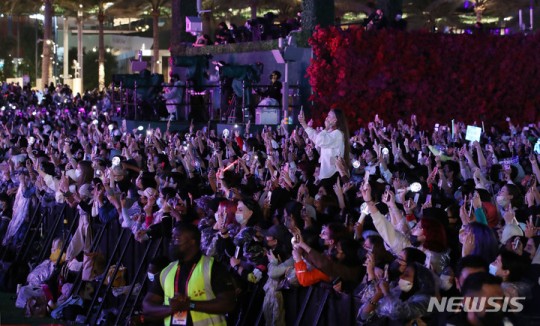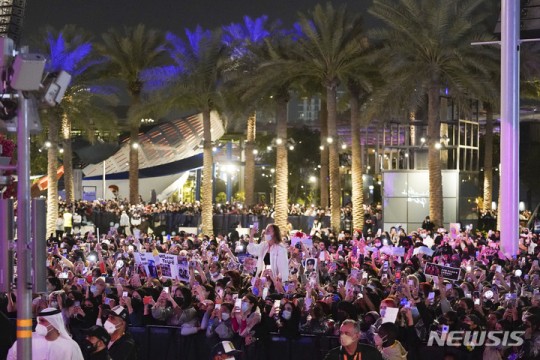 Read More About: P1Harmony Enters The US Billboard For The First Time!
1-Jun
,
Back Door
,
Bangchan
,
best Kpop girl group
,
best kpop news site
,
best kpopstar
,
breaking news kpop
,
Changbin
,
daily kpop news
,
Fandom
,
Felix
,
Gashina
,
Go Live
,
God's Menu
,
Han
,
Hyunjin
,
I.N
,
In Life
,
Korean celeb news
,
Korean singer
,
Korean singer songwriter
,
KPOP
,
Kpop album
,
Kpop beauty routine
,
Kpop boy group
,
kpop celebrity news
,
Kpop chart and news
,
Kpop colllaboration
,
KPOP comeback
,
Kpop current news
,
kpop daily news
,
Kpop fashion
,
Kpop girls group
,
Kpop idols
,
Kpop issues
,
Kpop latest news
,
Kpop music chart
,
Kpop news
,
Kpop news articles
,
Kpop news sites
,
kpop news update
,
Kpop recent news
,
Kpop skin care routine
,
Kpop skincare routine
,
kpop stray kids
,
kpop sunmi
,
KPop trending news
,
KPOPNEWS
,
Lee Know
,
Seungmin
,
Singer Sunmi
,
South Korean singer songwriter
,
Stray Kids
,
Stray Kids member
,
Sunmi
,
sunmi kpop
,
Sunmi Lee
,
Sunmi songs
,
Tail
,
the best kpop girl group
,
the best kpop girl group of 2021
,
the best kpop group of 2021
,
the top kpop group
,
top kpop boy group
,
top kpop girl group
,
WARNING
,
Wonder girls