"Let the world know about the climate action of K-pop fans." 'K-Pop 4 Planet' includes fandoms of BTS, EXO, BLACKPINK, and many more.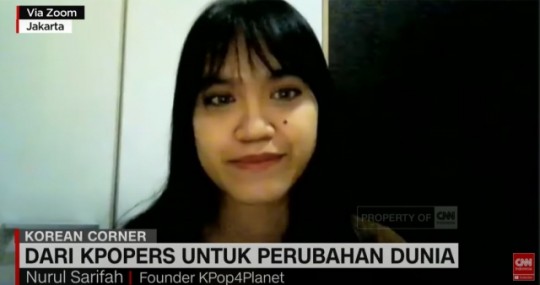 "We want to inform that K-pop fans around the world are doing activities for the environment, society, and climate action in addition to fan activities."
'K-Pop 4 Planet' (K-pop for Earth, K-pop4Planet), a climate action platform led by global K-pop fans (such as BTS, EXO, BLACKPINK, etc.), is actively in action. So, CNN has reported their activities intensively, attracting attention.
At the end of May, CNN Indonesia Channel conducted a live interview with Nurul Sarifah. She is an Indonesian university student who runs K-Pop 4 Planet.
'K-Pop 4 Planet' is a platform launched by K-pop fans around the world. It has the purpose of showing good influences that K-pop artists and fandoms have been pursuing in the climate field. Also, it promotes solidarity with various fans for future-oriented actions of governments and companies.
Since its launch in March, it has received keen attention from more than 50 media worldwide. It includes Reuters and Rolling Stones, as well as in Asia, Europe, the US, and South America. So, the public is showing a lot of interest in their activities.
Nurul Sarifah said, "We are attracting the public by using social media, where K-pop fans are active, as their main platform. I hope that the environmental movement using Twitter and Instagram will spread around the world."
Specifically, she said, "We are working together with K-Pop fans around the world. This includes fans in the US, Canada, Thailand, and the Philippines, to promote our activities. Of course, there are also fans from Korea."
She is announcing the power of global fans to unite with each other under the theme of 'Environment.'
Also, when asked, "K-pop fans are doing activities for positive change. Some people underestimate that there is nothing that fans can do. What do you think about these stereotypes?"
Nurul Sarifah replied, "One of the reasons K-pop 4 Planet exists is that K-pop fans are engaged in activities for the environment and society aside from fan club activities. We want to give people a new perspective that these activities can lead to real change."
In fact, this year, K-Pop 4 Planet launched a campaign to ask Tokopedia, a representative IT company in Indonesia, where BTS and Blackpink are working as models, to use renewable energy for the environment.
Also, they plan to call for a response to the climate crisis with fans worldwide. It is until the 26th UN General Assembly on Climate Change (COP26), which will take place in the UK in November this year.
The United Nations Global Compact Korea Association supports the K-Pop 4 Planet, which officially launched on March 3. They plan to conduct their own campaign in solidarity with various fandoms in the future.
Read More About: BTS Topped The US Billboard 'Hot 100' For 4 Consecutive Weeks
2021 kpop
,
2021 kpop news
,
2021 kpop news updates
,
2021 kpop updates
,
2021 news kpop
,
2021 updates on kpop
,
BLACK PINK
,
Blackpink
,
BTS
,
BTS News
,
BTS today
,
BTS UPDATES
,
BTSTREND
,
cnn
,
EXO
,
Exo news
,
k-pop 4 planet
,
KPOP
,
Kpop 2021
,
Kpop artist
,
Kpop artists
,
Kpop idols
,
Kpop news
,
Kpop trend
,
Kpop trending
,
KPop trending news
,
Kpop trending now
,
KPOP2021
,
Kpop4Planet
,
Kpopall
,
KPOPIDA
,
KPOPNEWS
,
trending kpop
,
Trending Kpop news
,
trending kpop update
,
trending update kpop