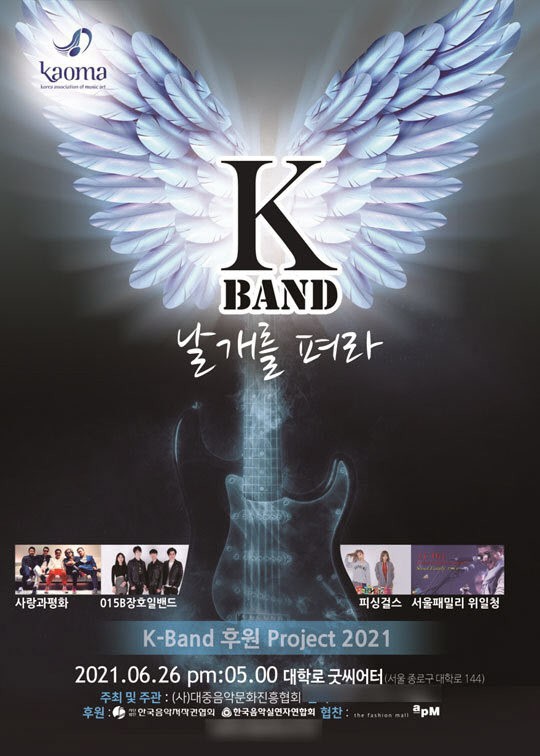 The Popular Music Culture Promotion Association (also known as Eumjinhyup) will host the 'K-BAND, Spread Your Wings' concert. It will take place at Daehakro Good Theater at 5 pm on June 26th.
The Legend group 'Love and Peace,' 015B 'Jang Ho-il Band,' which dominated the 90s, 7080s Seoul Family 'Ilcheong Wi,' and witty women's band 'Fishingirls,' will appear on behalf of each generation. The purpose of this performance is to boost K-band culture.
Regarding the plan's intention, Eumjinhyup said, "First, to convey a message of hope that it is the first step to cross the dark path due to Covid-19. Second, this project aims to encourage and support band musicians who lead the way in music. And thirdly, we planned it to suggest that musicians need to exchange and communicate between generations as well as current issues in society."
Eumjinhyup, which established the Korean Rock Development Council in 2003, changed its name in 2007. They registered with the Ministry of Culture, Sports, and Tourism and continued the legacy of Korean rock for 17 years. Recently, they established a new organization and infrastructure and started full-scale work to revive the live band culture.
In addition, among the 350 seats in the concert, senior musicians and officials will occupy 100 seats with social distancing. It includes Chairman Yongwon Joo, Hongtak Kim, Hangki Yoon, Chihaeng Ahn, Mihwa Jang, Ok-hee, and Kipyo Kim. In addition, fans who love rock bands can enter for free on a first-come, first-served basis by prior application on the Eumjinhyup website.
Read More About: 'Peace Concert' To Be Held Featuring Top Korean Artists
K-BAND
,
K-BAND Korea
,
K-BAND kpop
,
K-BAND SPREAD YOUR WINGS CONCERT
,
KPOP
,
Kpop 2021
,
Kpop artist
,
Kpop artists
,
Kpop idols
,
kpop K-BAND
,
Kpop news
,
Kpop trend
,
Kpop trending
,
KPop trending news
,
Kpop trending now
,
kpop trending update
,
KPOP2021
,
KPOPIDA
,
KPOPNEWS
,
Trending
,
trending 2021
,
trending kpop
,
Trending Kpop news
,
trending kpop update
,
trending news
,
trending update kpop