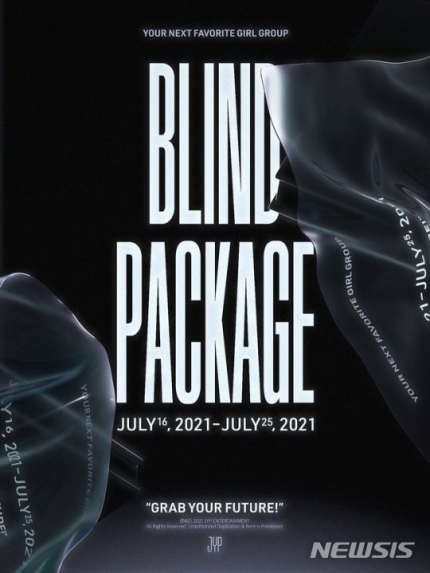 JYP Entertainment has started pre-selling the limited edition debut album of a new girl group. They will launch the new girl group in February next year.
On July 8th, JYP Entertainment opened a new social media channel 'JYPn' with infinite possibilities such as next, now, new, and unknown 'n.' Through this channel, they released a video that stands out with mystery and a sensual atmosphere.
On July 9th, JYP released a poster introducing the blind package. So, it caught the attention of domestic and foreign fans by foretelling the birth of a new girl group.
The blind package, set to release in February 2022, is a limited edition of JYP's rookie girl group debut single. They already start the pre-order sales on various domestic and foreign music sites including Interpark, Yes24, and Hottracks from the July 16th to July 25th.
Particularly, you can purchase this limited edition only for a certain period of time, increasing the collectible value. The blind package with the slogan 'GRAB YOUR FUTURE' consists of a limited edition CD, photo book, photo card, poster, premium membership card, and random Polaroid. In addition, there will be special benefits in the future through a lottery among buyers with premium membership cards.
Read More About: OMEGA X, The 4th Generation Multi-Member Boy Group!
2021 kpop
,
2021 kpop girl idols
,
2021 kpop news
,
2021 kpop news updates
,
2021 kpop updates
,
2021 news kpop
,
2021 updates on kpop
,
JYP
,
JYP Entertainment
,
jyp kpop
,
JYP new girl group
,
JYP rookie girl group
,
KPOP
,
Kpop 2021
,
Kpop artist
,
Kpop artists
,
Kpop idols
,
Kpop news
,
Kpop trend
,
Kpop trending
,
KPop trending news
,
Kpop trending now
,
kpop trending update
,
KPOP2021
,
Kpopall
,
KPOPIDA
,
KPOPNEWS
,
Kpopnews 2021
,
Trending
,
trending 2021
,
trending kpop
,
Trending Kpop news
,
trending kpop update
,
trending news
,
trending update kpop