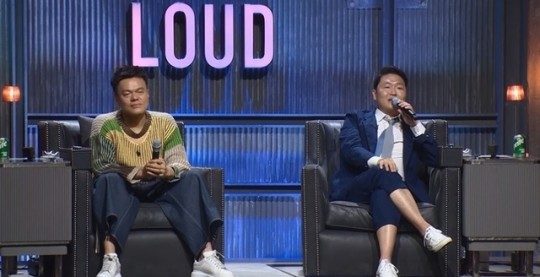 Jinyoung Park's JYP Entertainment and Psy's P Nation will reveal their respective trainees.
Jinyoung Park and Psy will present trainees belonging to their respective companies in the second episode of SBS TV's audition variety show 'LOUD,' which will air at 8:55 pm on June 12th.
At the end of last week's broadcast, JYP and P Nation announced the revelation of their trainees, which attracts the viewers' attention both offline and online.
The emergence of JYP trainees who succeeded in every idol group from TWICE to Stray Kids and the first release of P Nation trainees to the world made producers nervous.
In the previous recording, Jinyoung Park showed a calm look, saying, "From now on, I will use respectful words to you." Then, Psy also said, "I feel like I'm going crazy because I'm nervous. I feel like I'm being evaluated for the first time in 20 years since my debut."
The producers of 'Loud' said, "Trainees from both companies will surely have a differentiated performance from existing participants as they have been training for a long time. But, the results are hard to predict as they participate as contestants in 'Loud.'
'Loud' started with a national audience rating of 9.0% based on Nielsen Korea's first broadcast on June 5th.
Read More About: TWICE Performed 'Alcohol-Free' On 'Show! Music Core'
2021 kpop news
,
2021 kpop news updates
,
2021 kpop updates
,
2021 updates on kpop
,
jinyoung park
,
JYP
,
JYP Entertainment
,
jyp kpop
,
KPOP
,
Kpop artist
,
Kpop artists
,
kpop jyp
,
Kpop news
,
Kpop trend
,
Kpop trending
,
KPop trending news
,
Kpop trending now
,
kpop trending update
,
KPOP2021
,
KPOPIDA
,
KPOPNEWS
,
p nation
,
Psy
,
psy kpop
,
psy p nation
,
Trending
,
trending 2021
,
trending kpop
,
Trending Kpop news
,
trending kpop update
,
trending news
,
trending update kpop