Jiyeon and other T-ara members held a pajama party, recalling their past dorm life. "Someone stole my phone, that made me have a rental phone."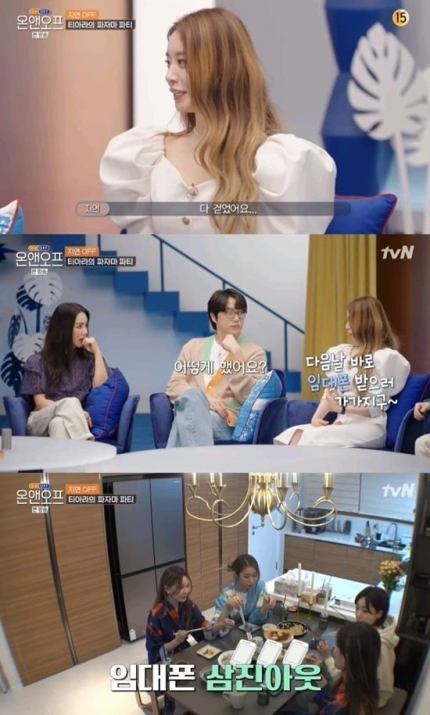 In tvN entertainment, 'On and Off', Jiyeon had a complete meeting with T-ara members.
In 'On and Off', aired March 23rd, Jiyeon reappeared as the first guest of the 'Geum Eui-Hwan Hyang project.'
Jiyeon received attention on her life. She said, "It changed a lot from last year. I'm living thinking of becoming diligent on my own. It seems that life comes to life." As she said after moving out, Ji-Yeon set a change off, such as watering the pots and riding an indoor bicycle. However, after riding the indoor bicycle for 55 seconds, I feel tired and lay down on the sofa again and laughed.
In the last broadcast with her "best friend" IU, on that day, other T-Ara members, Qri, Eunjung, and Hyomin, visited Jiyeon's house. Jiyeon treated her guests while the members handed out pictures and flowers that they painted for her.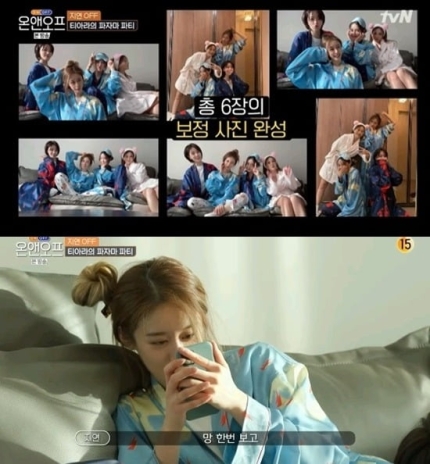 T-Ara held a pajama party, and Jiyeon's unique pajama caught the eye of the viewers. Particularly, the appearance of Qri, who brought everything from slippers to a cleansing band, made T-Ara laugh. It created a pleasant atmosphere. Eunjung pulled out a hooded T-shirt, and Hyomin wore a pajama with a subtle style.
They also showed extraordinary correction skills. T-ara members started taking a group photo. They removed their black spots and dirt on their faces. Jiyeon said, "Today, it's going to be calm and well. We're not going to finish (editing) in a day. Qri, in a surprise, said, "I told you to spend the last few months and up to a few days."
Following the fried fish ordered by delivery, they prepared their dinner. Seeing the members moving quickly to eat food, Jiyeon feels satisfied. "Our teamwork is not a joke", then ate the pancake made by Hyomin.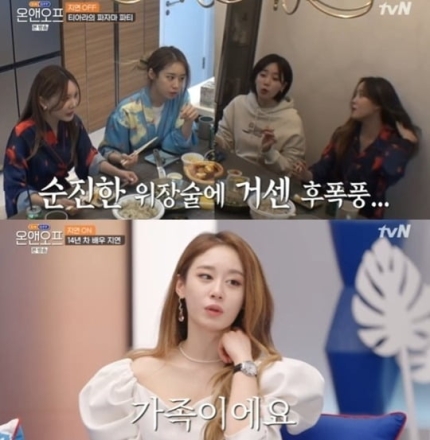 Following that, Jiyeon shared her way of hiding a rental phone as her phone got stolen. She recalled her living in a dorm 10 years ago. Qri said, "Don't you hide it under a pillow?" Jiyeon said, "I hid it in my underwear."
In the studio, Jiyeon said, "I still got it. When there were female managers, they checked my body and confiscated it." Singer Jessi shooked her head, saying, "Is it a prison?" I remembered the time when I was used to the manager's notice. Jiyeon raised her voice, saying, "If I can't do it, I want to do it more." Eunjung laughed, saying, "I would have had a love section near the stairs and rooftops of the accommodation. Afterward, Jiyeon expressed her deep affection, saying, "I spent half of my life with my sisters. I met my sisters when I was 15, but now next year, I'm thirty."
Hyomin also thanked her, "Jiyeon wasn't always a younger sister. Sometimes, she's like an older sister. She read and led me. Eunjung cheered, "I wish Jiyeon would be happy no matter what she is doing."
'On and Off' is broadcast every Tuesday at 10:30 pm.
Post You Might Like: Hyomin Of T-Ara Showed Off Her Beauty