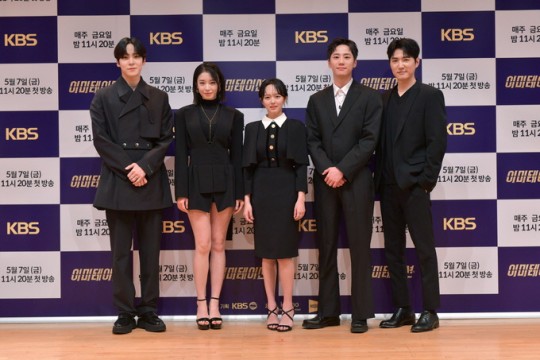 KBS2's new drama "Imitation" will premiere at 11:20 p.m. on May 7th. 'Imitation' is a drama that highlights idols who are the main characters, which colored the world of K-pop. Actress Jiso Jung played the role of Maha Lee, a member of the girl group Tea Party in the drama. At an online production presentation before its broadcast, she said, "The actors are so talented and burdened. I practiced hard without fail."
"There are a lot of friends around me who are idols. I wanted to do something that my friends could relate to, so I talked to them a lot. I am worrying that I might not understand everything and act," said Jiso Jung.
"In fact, I dreamed of becoming an idol when I was young. I went up the stage through my work and experienced this and that. Then, I realized that not everyone could be a singer. "I want to leave my dream as a singer when I was young."
'Imitation' attracted attention as the girl group Tea Party appeared on KBS2 'Music Bank' on the 30th of April. They showed their performance, and the fictional idol group Shax released a new song at noon that day. Fans also noticed their appearance of expanding their worldview.
"The character in the webtoon is perfect. But, I'm not that good-looking or talented," said Junyoung Lee. He is the center of Shax and played the role of an idol in the drama. "I felt more pressure to do well than to realize my role's power 100 percent."
Jiyeon Park plays the role of Rima La, the best female solo singer in the drama. She explained, "The team has been active for a long time. But, it took me a lot of effort to show the real appearance of a solo singer. I've been referring to the performance of Junghwa Uhm and Hyori Lee, the best singers in Korea."
Yunho of ATEEZ took his first acting role as a member of the boy group 'Sparkling' in the drama. He said, "I am happy to meet you all with my first acting work in my life. I think I can act with confidence based on my experience as a member of ATEEZ."
Danny Ahn took the role of Jihak, the representative of the agency to which the Tea Party belongs. He said, "There are many similar parts to the idol world. The drama contains information about what idols worry about before and after their debut."
Also, Production Director Hyunhee Han directed the drama. He said, "In the ending song of the drama, there is a lyric saying, 'You are the prettiest star tonight.' This star, maybe me or you, who have listened to the music. It is a story that can comfort, inspire, and encourage the greatest influence that artists can do."
Read More About: Jessi Revealed Her Sexy Body In A See-Through Fashion
2021 kpop
,
2021 kpop news
,
2021 kpop news updates
,
2021 kpop updates
,
2021 news kpop
,
2021 updates on kpop
,
ateez_yunho
,
imitation
,
imitation drama
,
jiso jung
,
Kpop artist
,
Kpop news
,
Kpop trending
,
KPop trending news
,
KPOP2021
,
KPOPIDA
,
KPOPNEWS
,
lee junyoung
,
shax
,
sparkling
,
tea party
,
Trending
,
trending 2021
,
trending kpop
,
Trending Kpop news
,
trending kpop update
,
trending news
,
trending update kpop