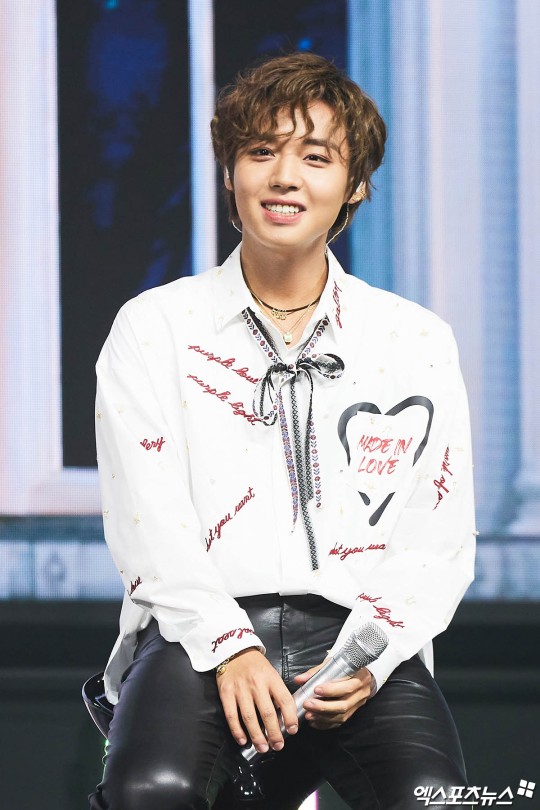 Singer Jihoon Park is back with a new album that contains a lot of his charm. Jihoon Park held an online showcase to celebrate the release of his fourth mini-album, 'My Collection,' at 5 pm on August 12th.
On this day, Jihoon Park said about the new album 'My Collection,' "A collection can only be collected with time and dedication. I think this album will be different if it contains the music stories that can express me in one collection. I have to show it when I collect it. So, I want to show it quickly."
Jihoon Park first presented the title song, 'Gallery,' and its music video. He said, "When filming the music video, both the director and I thought it would be good to feel naughty. I put scenes like putting the key in the door or looking at the CCTV," he said.
When Kyungrim Park, in charge of the hosting, said, "If it's cute, isn't it Jihoon Park again?" So, Jihoon answered without omitting, "It is true," causing laughter.
When asked if the extreme close-up shot felt burdensome, Jihoon Park answered, "I don't think so. I'm not confident, but I don't feel ashamed or embarrassed about having a slim face."
When asked about the artist he aims to be, Jihoon Park said, "I want to become someone who can impress and have fun with the public and fans with various appearances. I want to perform as a singer and actor at the same time."
When asked which of the singing or acting activities is more interesting, Jihoon Park said, "The fun, pride, interest, and mystery of having both coexist. Showing a variety of looks is interesting and fun to me. I think there are a lot of images that I haven't been able to show you yet. I hope you enjoy watching it a lot to see what other images I can show you."
Also, he said about the image he wants to show in the future, "There are many images that I couldn't show as a singer. I want to show mature sexy or mature adult sexiness."
Meanwhile, Jihoon Park released his fourth mini-album, 'My Collection,' through various online music sites at 6 pm today, August 12th.
Read More About: Posh Girls, Confirmed To Debut On August 18th
jihoon park
,
jihoon park kpop
,
jihoon park new mini album
,
JJihoon Park kpop'
,
KPOP
,
kpop album release
,
Kpop artist
,
Kpop artists
,
kpop new singers
,
Kpop news
,
kpop park jihoon
,
kpop singer
,
kpop singers
,
Kpop trend
,
Kpop trending
,
KPop trending news
,
Kpop trending now
,
kpop trending update
,
KPOP2021
,
KPOPIDA
,
KPOPNEWS
,
park jihoon
,
park jihoon kpop
,
Singer Jihoon Park
,
Trending
,
trending 2021
,
trending kpop
,
Trending Kpop news
,
trending kpop update
,
trending news
,
trending update kpop