Jihoon park released his 5th mini-album, 'HOT & COLD' on October 28. Kpop singer Jihoon Park has returned with music that has grown further.
Jihoon Park held an online and offline showcase at 5 pm on October 28 to release his fifth mini-album, 'HOT & COLD.'
'HOT & COLD' is an album that sings about the conflict between lovers and the relationship that matures through it. Jihoon Park said, "I wanted to show detailed emotional changes in music or videos or how I grow."
Regarding the new album, he said, "I want to express that I am confident. It is the confidence that I can show you various images even if I make a quick comeback and the confidence in the glorious performance that I can show you. It can be seen as confidence by comprehensively including that."
Jihoon Park took on a new challenge in the title song 'Serious.'
Not only did he make another musical leap by adding shouting singing to a song that stands out with intense electronic sounds, but he also put warm-eyed lyrics and melodies throughout the album. He dramatically expressed the contrast of love with 'hotness and coldness' and colorful performances and acting skills.
Jihoon said, "It tells the story of lovers' in love. In front of love, everyone shows a contrast between hot and cold. I expressed that feeling as a point. The image in the performance is important, but I tried to focus more on minor emotional changes. Also, I wanted to show that I can express various things."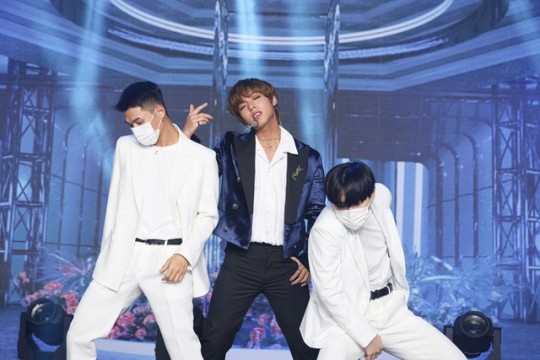 In addition, the album's theme was clearly revealed with a variety of tracks. It contains emotions between lovers, including the songs 'Escalator (Intro),' WANT!,' 'Cheese,' 'LOVE GLASS,' and 'All Yours.'
Jihoon Park said, "If I had a cute and mischievous image during the last activity, I would like to show a little more change and mature appearance this time. Also, I want to show that a singer named Jihoon Park continues to grow one step at a time. It's my dream and goal to continue to show various sides of me."
Kpop singer Jihoon Park released his fifth mini-album 'HOT & COLD' at 6 pm on October 28.
Read More About: Rookie Singer LIHA Releases New Song 'MANICURE' On Oct. 29
2021 kpop news
,
2021 kpop news updates
,
2021 kpop updates
,
2021 news kpop
,
best kpop news site
,
BTS trending news
,
daily kpop news
,
jihoon park
,
jihoon park kpop
,
jihoon park new mini album
,
jihoon TRCNG
,
JJihoon Park kpop'
,
Korean celeb news
,
KPOP
,
Kpop 2021
,
Kpop artist
,
Kpop artists
,
kpop celebrity news
,
kpop daily news
,
Kpop idols
,
Kpop latest news
,
Kpop news
,
kpop park jihoon
,
Kpop recent news
,
Kpop trend
,
Kpop trending
,
KPop trending news
,
Kpop trending now
,
KPOP2021
,
Kpopall
,
KPOPIDA
,
KPOPNEWS
,
Kpopnews 2021
,
Kpopnews2021
,
latest kpop news
,
park jihoon
,
park jihoon kpop
,
recent kpop news
,
Singer Jihoon Park
,
TRCNG jihoon
,
Trending
,
trending 2021
,
trending kpop
,
Trending Kpop news
,
trending kpop update
,
trending news
,
trending update kpop