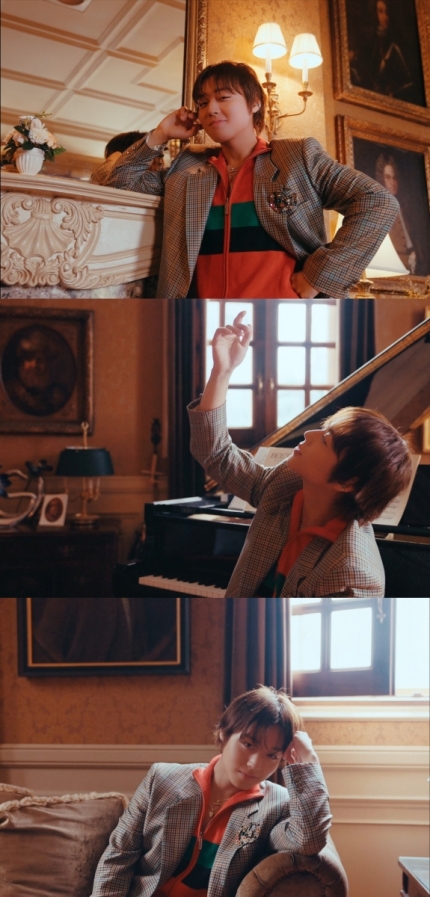 Singer Jihoon Park caught the eye of the fans with his colorful charms. He posted a mood spoiler video for the fourth mini-album 'My Collection' on his official social media on August 4th.
In the video, he appeared in the previously released comeback poster and spoiled the atmosphere of the new album.
Jihoon Park foreshadowed a deeper mature look through two concept photos. Also, he showed a reversed atmosphere by exuding a lively and bright orange mood. A grand piano, placed in a space full of masterpieces, gives a classic feel. But, in contrast, Jihoon's lively expression and gesture give a different feeling, showing an unusual charm.
Particularly, it sensibly captured Jihoon Park's appearance with a high-quality styling. It gives the impression of seeing a moving pictorial.
Recently, Jihoon Park captured the small screen through the drama 'At A Distance, Spring Is Green.'
He is about to make a comeback in the music industry after 9 months with 'My Collection.'
This new album is full of music collections, expressing and representing Jihoon Park as an artist. It's like a collection that one can only collect with time and dedication. So, it is raising the expectations of fans even more.
Particularly, he attempted a broader musical transformation through collaboration with solid musicians such as LILBOI and Colde. So, it is raising the curiosity of fans about the title song 'Gallery.'
Even before its release, the album's identity is rising.
Singer Jihoon Park will release his 4th mini-album, 'My Collection,' through various online music sites at 6 pm on August 12th.
Read More About: Sistar Hyorin & Dasom, To Release A Collaboration Song On August 10
2021 kpop news
,
2021 kpop updates
,
Korean celeb news
,
KPOP
,
Kpop 2021
,
Kpop artist
,
Kpop artists
,
kpop celebrity news
,
Kpop latest news
,
Kpop news
,
kpop park jihoon
,
Kpop recent news
,
Kpop trending
,
KPop trending news
,
Kpop trending now
,
KPOP2021
,
KPOPIDA
,
KPOPNEWS
,
latest kpop news
,
latest kpop updates
,
My Collection
,
park jihoon
,
park jihoon kpop
,
recent kpop news
,
Singer Jihoon Park
,
Trending Kpop news
,
trending kpop update
,
trending news
,
trending update kpop