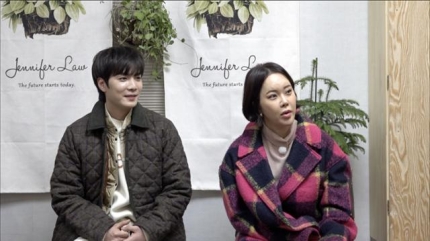 NU'EST JR and Ji-young Baek boasted a fantastic experience on their home tour.
JTBC's 'No Home in Seoul' aired on March 17th, Ji-young Baek and NU'EST JR boasted their 'chemistry.' They are teamed up to go on a home tour to Asan, Chungcheongnam-do.
The 'My House' in Asan, which Baek Ji-young and NU'EST JR visited, exudes a unique charm. It is filled with hand-made furniture on a retro exterior with a green roof and cuckoo windows.
During the home tour, NU'EST JR recalls his school days after discovering a stovetop. Ji-young Baek was amazed, saying, "Have you ever used a stove?" Si-Kyung Seong of the studio was also in doubt, "Aren't you talking about what you heard?" which embarrassed JR.
Afterward, Ji-young Baek met the landlord. She was moved by thinking of her daughter, Haim-i when she heard how the landlord raised two sons.
Subsequently, Ji-young Baek and NU'EST JR revealed a special reading corner to make happiness through the scene. Also, Ji-young Baek heard that the landlady's husband is attending an obstetrics and gynecology clinic. She immediately revealed her plan and received support from everyone at the site.
Ji-young Baek and NU'EST JR's home tour provides a variety of fun. It is broadcasted at JTBC's 'No Home in Seoul' at 10:30 pm on the 17th.
Read More About: T-Ara Hyomin Showed Off Her Fresh and Cute Charm