Singer Jessi showed off her bold, fitted fashion with a see-through long-sleeved top.
She released several photos on her Instagram on May 7th, along with a short caption, "How may I help you?"
In the released photo, Jessi revealed a sense of volume with a fitted wine-colored see-through top. She posed in a sexy way wearing a slim black high-waisted skirt.
She showed off her glamorous figure, wearing a wine-colored see-through top with black lingerie. It showed off her bold pose, with her hands on her chest and arms stretched up.
Jessi showed a variety of poses as well as charismatic glances, proving her confidence.
Her short hair touching her shoulder line and her mellow shading makeup add up to her sexy look. Also, she emphasized her thick lips by applying a nude-toned lipstick.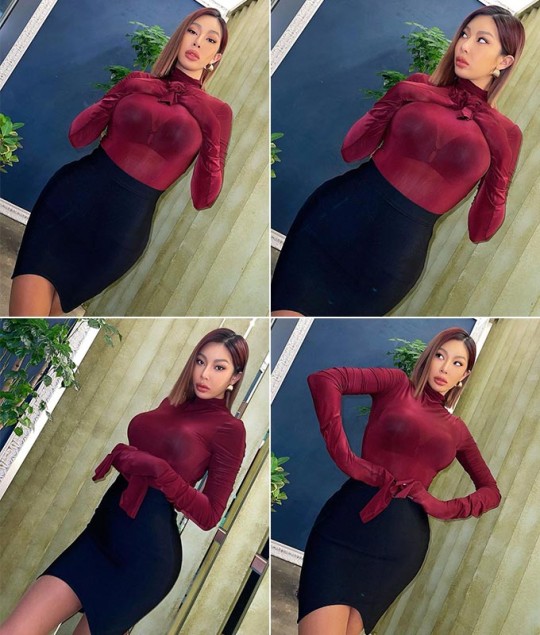 Jessi is working on the title track of her single album, 'What Type of X,' following her popular song 'Nunu Nana,' which music fans loved a lot. In addition, Jessi is appearing in the TV Chosun Sunday drama 'Somehow Family.' And, she is active as a host of the web entertainment 'Showterview with Jessi.'
Read More About: Brave Girls Ranked No. 1 In Brand Reputation Index In May, Beating Blackpink
2021 kpop news
,
2021 kpop updates
,
JESSI
,
jessi instagram
,
jessi kpop
,
jessi kpop news
,
Jessi new song
,
KPOP
,
Kpop 2021
,
Kpop artist
,
Kpop artists
,
Kpop idols
,
Kpop news
,
Kpop trend
,
Kpop trending
,
KPop trending news
,
Kpop trending now
,
kpop trending update
,
KPOP2021
,
Kpopall
,
KPOPIDA
,
KPOPNEWS
,
Kpopstars
,
Trending
,
trending 2021
,
trending kpop
,
Trending Kpop news
,
trending kpop update
,
trending news
,
trending update kpop