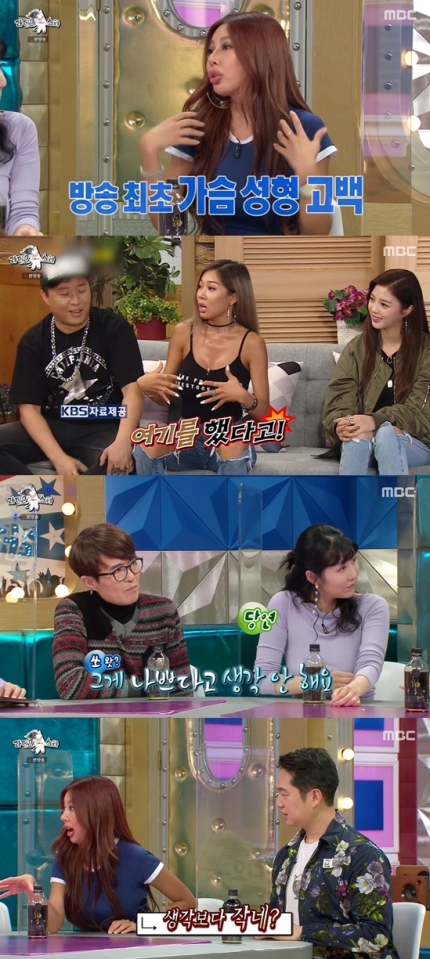 Jessi attracts the attention of viewers with her confident confession about breast enhancement surgery.
The MBC entertainment program 'Radio Star,' which aired on the afternoon of the 17th, featured singer Seo-bum Hong, singer and artist Ni-hun Hu, broadcaster Sayuri, and singer Jessi as a special feature of 'Can't be No. 1'.
After sharing her honest thoughts about breast enhancement surgery, Jessi said, "Honestly, it's not that big," and expressed a smile."
Jessi said in the 'voluntary breast surgery Coming Out No. 1', "I was talking in another entertainment show. I don't think that breast surgery is bad. I took an advertisement for underwear and posted a picture on social media. Then, I saw a comment, saying, 'they were smaller than I thought.' I want to be honest, but I'm not that big. The stylist tells me that when I take it off, it is an apple, and when I cover it, it is a watermelon."
Jessi made a comeback on the 17th with her new song 'What X.' She also mentioned Psy as the boss of the management company. Jessi confessed, "I don't point out anything else, but I point out the clothes. Why are you wearing it so sexy?"
Jessi was very cheerful and expressed laughter more than anyone else on the show.
Read More: Jessi And Jongmin Kim As Romantic Partners
all about Kpop
,
All kpop
,
allaboutKPop
,
Allkpop
,
jessie
,
K idols
,
K-Fashion
,
K-popnews
,
K-wave
,
KFashion
,
Korean idols
,
Korean pop stars
,
Korean singer
,
Kpoida
,
KPOP
,
kpop 202
,
Kpop 2021
,
Kpop breast surgery
,
Kpop trend
,
Kpop trending
,
KPop trending news
,
Kpop trending now
,
Trending
,
trending 2021
,
trending kpop
,
Trending Kpop news
,
trending kpop update
,
trending news