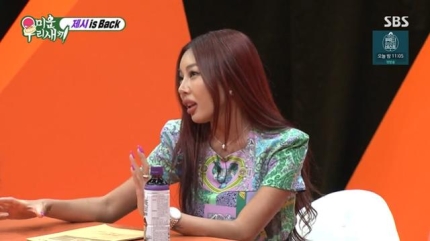 Jessi shared about Psy on her appearance on 'My Little Old Boy.'
She recently made a comeback with her new song 'What Type of X.' She appeared on SBS's entertainment program, 'My Little Old Boy,' which aired on March 21st.
Jang-Hoon Seo asked Jessi, "Would you think 'What Type of X' would be better than 'NUNU NANA'?" Then she replied, "How do I know that," and incited a burst of laughter.
She continued, "Psy said he liked this new song much better. He said that everyone would say that this song was good."
Dong-Yeop Shin asked, "Does Psy make people crazy again?" Jessi trembled, saying, "I'm still crazy. I fight a lot with Psy. But, we're honest, so there's no end to it. But as I get older, it's hard to fight."
Earlier, Jessi and Psy took the 'What type of X' challenge. Psy posted their video on his Instagram on March 17th.
Meanwhile, Jessi, who appeared as a special MC in SBS's' 'My Little Old Boy' (a.ka. Mom's Diary: My Ugly Duckling), shared her mother's reaction about Jong Kook Kim.
Dong-Yeop Shin said, "Because of the presentation of Jong Kook Kim, your (talking to Jessi) mother has an unusually different look."
Earlier, Jessi picked Jong-guk Kim as her ideal type. She chose him among the performers at the time of her appearance on the show as a special MC. Jessi's mother seems displeased with this.
Jang-hoon Seo asked, "What does Jessie's mother say about her son-in-law?" Jessie said, "My mother usually talks a lot about Jae-Seok Yoo. But I think she likes Jong Kook Kim, too."
Jessie said, "I told my mom that I was just broadcasting the love line with Jong Kook Kim but I think she watched it well."
2021 kpop news
,
2021 kpop news updates
,
2021 kpop updates
,
2021 updates on kpop
,
JESSI
,
jessi and jong kook kim
,
Jessi comeback
,
Jessi_what type of x
,
jongguk kim
,
KPOP
,
Kpop 2021
,
Kpop artist
,
Kpop SBS
,
Kpop trend
,
Kpop trending
,
KPop trending news
,
Kpop trending now
,
kpop trending update
,
KPOP2021
,
KPOPIDA
,
KPOPNEWS
,
Psy
,
Psy and Jessie
,
Trending
,
trending 2021
,
Trending Kpop news
,
trending kpop update
,
trending news