Jessi and Wooyoung appeared on 'Running Man.'
The members of 'Running Man' took on the entertainment agency's representative and actors' roles, giving a smile with a situational play and body gag.
On the March 28th broadcast of SBS 'Running Man,' they took the role of four representatives of an entertainment agency. Six celebrities were also involved and decorated a race to wage a contract war.
Suk-jin Ji, So-min Jeon, Kwang-soo Lee, Haha are in charge of the entertainment. They tried to recruit celebrities to their own companies.
Suk-jin Ji said that the best star of 'Running Man' was Jong-guk Kim, not Jae-Seok Yoo. He signed a contract with Jong-guk Kim and Ji-Hyo Song with an 8.5 to 1.5 profit ratio.
Se-chan Yang said to Kwang-soo Lee, "I only need to remove those that are unpleasant to my eyes. The back hair is annoying. If I cut it neatly, I can make a contract up to 6-4."
When news of another company's contract came one after another, Kwang-soo Lee replied, "I will cut my back hair." He took the scissors and cut off the hair on the back of his head. He said to the surprised Se-chan Yang, "What's important about this back hair. I can shave. And, if this can change the company, I'll do it."
On that day, after the Running Man members appeared like stars, Jessi and Wooyoung also appeared. As soon as she appeared, Jessi was introduced as 'Jae Seok Hope' and called Jae-Seok Yoo, then hugged him.
Then Wooyoung and So-min Jeon appeared. They tried to capture his heart while dancing 2PM song. This is the first time that Wooyoung and So-min Jeon met. So, Wooyoung felt embarrassed. However, he signed a contract with So-min Jeon's company and formed a team together.
So-min Jeon said, "We are skinship entertainment. We have to be close like a family." Wooyoung was laughing at Somin Jeon's unique style as if she had a headache.
The celebrity recruitment press conference and the talent show have begun. Each company introduced the members and showed their abilities. Each of them was wondering whether to keep the current contract or find a different relationship. As a result of the talent show, Jessi won 1 million won. While Jae-Seok Yoo finished last, and Heebi out.
Before the final mission, they discussed the contract. Haha opened a situational drama and laughed while protecting the secret relationship between Jong-guk Kim and Ji-Hyo Song.
Following the quiz match, he played a game of guessing the words on his back in a stadium covered with soapy water. After the feast of the body gag, Ji-Hyo Song took the overwhelming first place. At the same time, Jong-guk Kim took the second place. Jae-seok Yoo and Se-chan Yang were exempted from penalties. The lower-ranking members returned home after penalizing 100 autographs for their fans.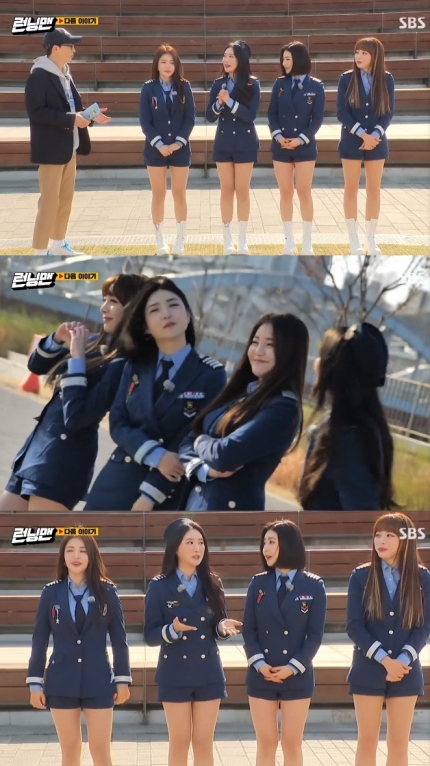 In the trailer, the group Brave Girls, which is a hot topic due to their reverse driving, appeared. They said they really wanted to appear in 'Running Man', and they attracted attention with their body gags and makeup.
Post You Might Also Like: 'Running Man' Lee Kwang-Soo, BLACKPINK'S Jennie Style Transformation
Brave girls
,
jessie
,
KPOP
,
Kpop artist
,
Kpop artists
,
Kpop idols
,
Kpop news
,
kpop show
,
Kpop trend
,
Kpop trending
,
KPop trending news
,
Kpop trending now
,
kpop trending update
,
kpop updates
,
KPOP2021
,
KPOPIDA
,
KPOPNEWS
,
Kpopstars
,
Running Man
,
Runningman
,
Trending
,
Trending Kpop news
,
trending news
,
Wooyoung
,
Yoo Jae Seok