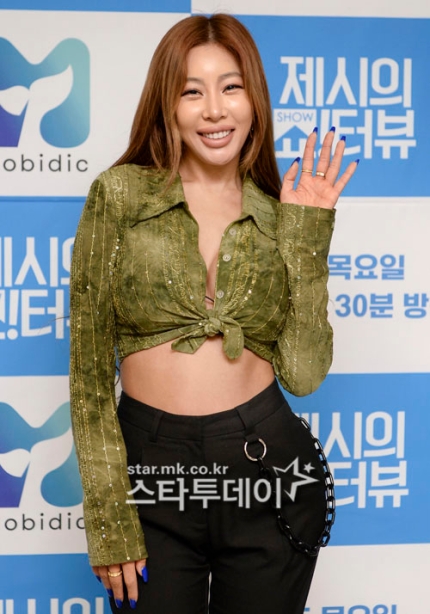 Jessi, who celebrated the first anniversary of 'Showterview With Jessi,' vowed to deliver more laughter and sincerity.
At 2 pm on June 7th, on SBS NOW channel, SBS Mobidic's 'Showterview With Jessi' held an online live press conference marking its first anniversary. Jessi and producer Hanjin Kim attended the press conference, and announcer Jungshik Jo hosted it.
When asked how she felt about her first anniversary, Jessi said, "I didn't even know that it's been a year. It went by too fast. It was entertaining. I just had an interview with Emma Stone. In fact, I was nervous because it was my first time doing an interview through FaceTime. I had interviews with top Korean stars, but I was very proud to have interviewed Emma Stone on the first anniversary."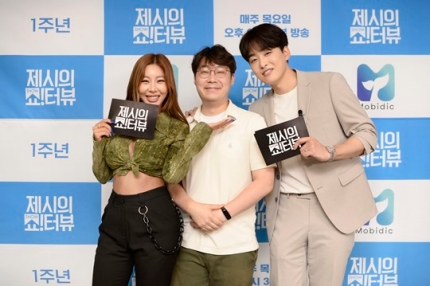 'Showterview With Jessi' is an unpredictable and hip talk show where you meet the hottest people right now. In charge of the hosting, Jessi is leading a 'shocking but not light talk show' by asking the guests their most innermost thoughts that people have not heard anywhere through her unexpected listening process.
When asked what the charm of Jessi as a host is, producer Hanjin Kim, who was in charge of directing the program, said, "I'm curious about what's next. I know that even if I give her a script, she won't do it as it is. So, I write a short script and let her do it. 95% of the time, Jessi has a bouncing charm, so we always wonder what's next."
He continued, "I wrote only two letters of 'suggestion' in the plan. Jessi is honest and free-spirited. I thought it was a variant interview for Jessi to be the host and proceed. When I first made it, I thought, 'Will Jessi be able to be the host?' But she did a great job. It's not an authentic talk show, but it makes people curious and touched."
Jessi picked Malwang and Youngcheol Kim as the most memorable guests she met during the year. She said, "I remember everyone, but the one that comes to my mind right now is Malwang. He was with me when the program didn't go well. There was a lot of talk and a lot of views. I also want to say thank you very much to Youngcheol Kim, who came out as the first guest."
As for those who I would like to be invited to the program later, "There are a lot. I think it's going to be BTS, BLACKPINK, ATEEZ, and Refund Sisters. I would also like to invite Junghwa Uhm. Hwasa is doing MAMAMOO. I think Hyori Lee is in Jeju Island. So it's not going to be easy to get together." Then Jessi asked the production team, "Will you buy me a ticket to Jeju Island?" and laughed.
When asked, after conducting 'Showterview With Jessi' for a year, how do you feel that things have changed before and after the program? Jessi said, "I felt that I was more considerate. I am very focused on my work. It won't go away, but it seems that concern and anger have diminished a bit. And I have a desire to get married."
Lastly, Jessi said, "It's our 1st anniversary now. I'm grateful to the fans for watching with us. There are many things that I lack. But, I will do my best to make it a program that can give you laughter and sincerity. I'm not a perfect person, but thank you for giving me so much love."
'Showterview With Jessi' airs every Thursday at 6:30 PM through YouTube, Facebook, and Naver TV.
Read More About: 2NE1 CL Showed Off Her Elegant Smile
2021 kpop news
,
2021 kpop updates
,
JESSI
,
Jessi comeback
,
jessi instagram
,
jessi kpop
,
jessi kpop news
,
jessi kpop update
,
KPOP
,
Kpop 2021
,
Kpop artist
,
Kpop artists
,
Kpop idols
,
KPOP JESSI
,
Kpop news
,
Kpop trend
,
Kpop trending
,
KPop trending news
,
Kpop trending now
,
KPOP2021
,
Kpopall
,
KPOPIDA
,
KPOPNEWS
,
showterview with jessi
,
Trending
,
trending 2021
,
trending kpop
,
Trending Kpop news
,
trending kpop update
,
trending news
,
trending update kpop