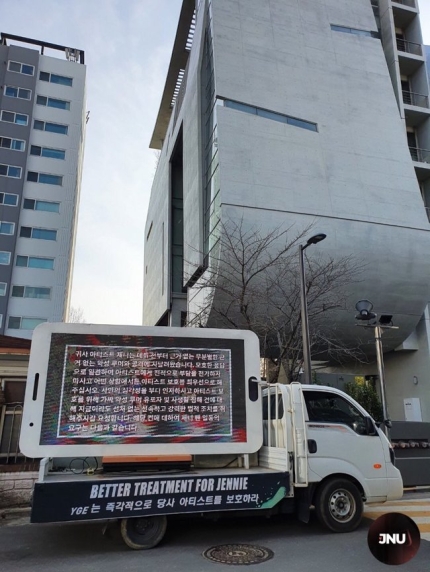 Another truck demonstration began in front of the YG Entertainment office building.
On March 5th, protests are in full swing in front of the YG office building in Hapjeong-dong, Mapo-gu, Seoul. Fans of group Blackpink member Jennie, sent a truck to YG Entertainment asking for the protection of their artists.
Fans said, "Your artist Jennie has been suffering from unfounded and reckless malicious rumors and attacks even before her debut. Do not pass the burden on to your artist consistently. With an ambiguous response, and in any situation, protecting your artist should be your top priority. You need to take legal action against people who invade Jennie's privacy. This includes the Paparazzi, media, and anyone involved in spreading false rumors."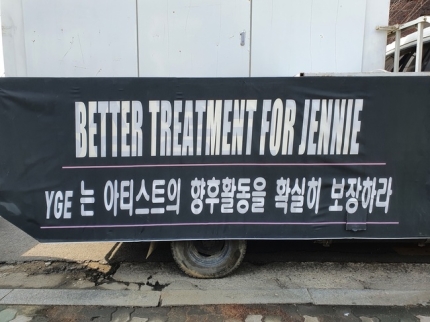 Jennie debuted as a member of Blackpink in 2016 and is loved by local and foreign music fans for her high quality stage performances.
Blackpink
,
Blackpink Jennie
,
blackpink member
,
blackpink member jennie
,
BP
,
GD JENNIE
,
Jennie blackpink
,
jennie channel
,
jennie dance
,
Jennie GD
,
Jennie style
,
KPOP
,
Kpop girl artist
,
KPOP GIRL GROUP
,
kpop girl idols
,
Kpop hottest singer
,
Kpop idols
,
Kpop issues
,
Kpop news
,
Kpop trending
,
Kpop websites
,
KPOP2021
,
KPOPIDA
,
KPOPNEWS
,
Kpopstars
,
Trending Kpop news
,
YG blackpink
,
YG entertainment
,
YG office