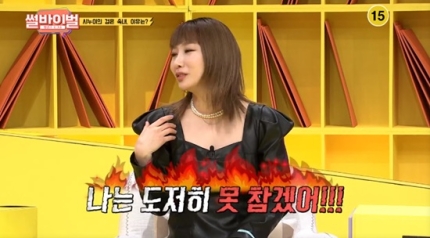 JeA released various anecdotes.
On March 11th broadcast of KBS Joy 'Survival', Brown Eyed Girls' JeA appeared as a guest.
JeA said, "Isn't money the most important thing as a leader? I can't easily talk about money when I was a rookie. I decided to make sure that the money comes in as much as I work hard. So, I made a deposit right away."
3MC and JeA talked about their 'worst mistake.' Na-Rae Park said, "I took the role of the MC at the S Headquarters Entertainment Awards. It isn't easy to broadcast live. At that time, the comment was, 'I am receiving text voting in real-time. So, please participate in the voting right now."
JeA added, "This is pretty," she said. "I once swore on the broadcast. This happens while I was taking a break from my main job in 2019 and getting busy with performing arts. I just shouted that it was the year of the year. But, I read the shape of Cheongha's mouth wrong, telling me it was the year of the dog."

Recently, JeA moved to Jeju Island for a happy life with her dogs. JeA said, "I'm so happy, and I'm in close contact with nature. After living in such a country life, the stress in Seoul disappeared."
JeA chose 'water pressure' as the most important condition when looking for a house. Also, JeA emphasized that "the pressure should be good enough." She said, "It's enough for me when my friends say that my place is refreshing when they come to my house and take a shower."
The story continued as JeA grabbed the back of her head. She said, "It seems that my friends come out of the baths." and angered them as "the trash of human trash." JeA expressed her pain and said, "Each one is irritating so I have to choose."
JeA said, "Some of my girlfriends didn't ask for it, but there was a friend who's cleaning our house every day. I really like interacting with people around me in various areas. Most of these people need control," she said. She also revealed this story.